Watch This iPhone Screen Protector Survive a Brick, Hammer and Beating
The iPhone screen isn't easy to scratch, but it is fairly easy to break without protection.
I certainly wouldn't want to hit my iPhone with a mug, beat it with a hammer or throw a brick on it, but that's what Buff Labs did after applying their tough screen protector.
Buff Labs makes screen protectors for the iPhone and iPad, but these aren't ordinary screen protectors. According to Buff Labs, the screen protectors use "4-layer shock absorption technology" to absorb direct hits that would shatter an unprotected screen.
Watch an iPhone survive torture and come away unscathed in the video below.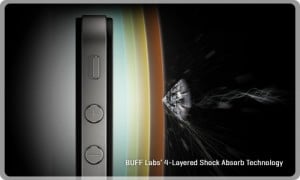 The four layers include a "Shock Absorptive Cushioning Layer" and a "Shock Dispersive Cushioning Layer" that provides protection from the abuse shown in the video.
There's also a "Stretch Resistant Layer" that provides elasticity. Finally, the "Repositionable Silicon Adhesive Layer" is reposition-able and Buff Labs claims it will release air bubbles over time.
Buff Labs also makes protectors for the iPad, sturdy enough to protect it from this chef's knife and nut-cracking hammer.
The protective film is not perfect, as seen in this demo video where direct hammer blows eventually break the screen, but it's still an impressive feat.
Unfortunately Buff Labs doesn't sell these tough iPhone and iPad screen protectors online. The company is based in South Korea or Asia and there is no easy place to find these screen protectors in the U.S.
The Buff Ultimate Shock Absorption Screen Protector reportedly shows up on eBay and other sites from time to time or $20-$30, but I have yet to find a place selling these tough screen protectors in the U.S.

As an Amazon Associate I earn from qualifying purchases.