Watch This Video: The Entire Xbox One Experience Revealed!
Users no longer have to wonder about how the Xbox One's Dashboard and interface will work. After months of showing small pieces of the user interface, Microsoft has added a detailed video of all the console's software and hardware based features to its YouTube channel.
The company posted the video to its Xbox Wire blog earlier today, and in that video users get the most detailed look at the Xbox One's software to date. That includes another look at how users can multitask by snapping applications, or pin media to their home screen and Skype with friends and family.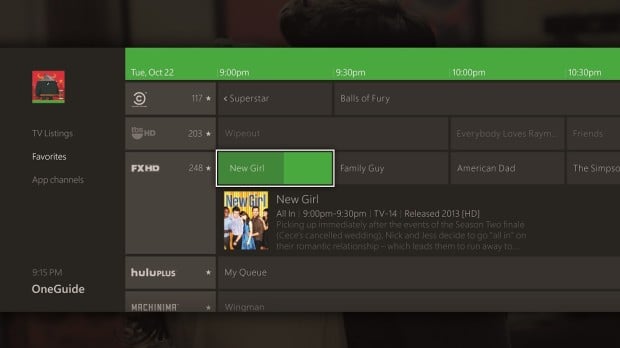 The video also goes into a lot of detail about how the Xbox One uses Kinect 2 to enhance the entire experience. Microsoft's Yusef Mehdi and Marc Whitten spent the majority of the video giving the Xbox One commands by just talking to it. The video even begins with Mehdi removing a plastic cover from the Kinect 2 sensor and having it instantly identify both men in the room.
Mehdi also spends part of the video making the case for why Microsoft choose to create a console that places gaming and entertainment on the same level instead of the gaming-centric approach that Sony is taking with its PlayStation 4. According to Mehdi, one of the benefits of having an HDMI-pass-through port is so that users can watch live television and receive notifications and other alerts. That's a feature he showed off by telling the Xbox One to turn to ESPN and then watching as gaming alerts popped up during the network's live broadcast.
Xbox One's OneGuide and Kinect 2 allow users to channel surf with their voice too. Users can also download applications that integrate into the OneGuide. For example Hulu Plus is surfaced in an area of the one guide called App channels.
Microsoft also revealed that users can customize their Xbox profile's dashboard color to add a bit of personality. The company didn't indicate if users could add backgrounds to the Dashboard like they can with the Xbox 360. The video didn't say what colors choices would be available either.
Read: Xbox One Pre-Orders Return to GameStop for the Last Time
The Xbox One launches on November 22nd. While pre-orders are sold out, users can still pick up the console on launch if they show up to participating retailers early enough. Microsoft has confirmed that its retail partners will have extra consoles on hand. The Xbox One costs $499.

This article may contain affiliate links. Click here for more details.