WaterField Designs Offers Rough Rider Leather Messenger Bag
WaterField Designs did it again with the Rough Rider Leather Messenger Bag. This distressed leather bag looks great and will likely hold up like every other bag from WaterField Designs we've ever tested.
The Rough Rider Leather Messenger Bag ($335) will hold a 13-inch laptop or a tablet inside the bag along with other peripherals or personal items. The strap system keeps the bag slim and compressed, holding it close to the user's side. The bag rests against a person's body to keep the holder from getting a sore back while under a load for a long time.
As the name suggest, the rough naturally tanned leather finish will stand out. As they describe it, the bag is "a throwback to the past with distinctly modern functionality." Since these bags get made in the US, the company pays careful attention to detail in hand crafting the high quality and attractive bags, cases and pouches.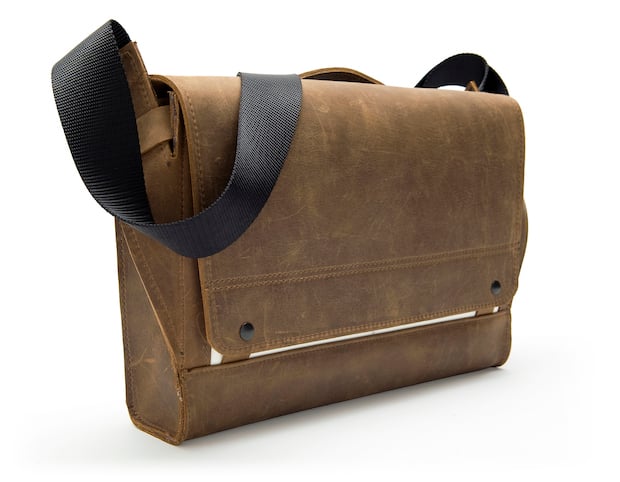 After using this bag for a while, it gets more beautiful. The leather develops an attractive look that reminds us of the days of the horse cavalry soldiers who charged up San Juan Hill in the Spanish-American war during the days of Theodore Roosevelt's "Rough Riders." The bag exudes a masculine old world or wild west quality that no one can ever call a "man purse." The nylon accents come in one of six colors to give it a modern flare.
Inside the Rough Rider will hold files, chargers or other accessories needed by mobile digital warriors. We find two deep waxed canvas pockets on the inside. A pair scratch free linen pockets under the flap that will hold an iPad mini and smart phone. The material protects the glass screens.
The flap holds tight with an adjustable snap that lets users hold variable amounts of gear inside. Grab the Rough Rider Leather Messenger Bag by the comfortable leather handle or sling it over a shoulder. The special design of the strap connectors keep the bag close to the vest and makes it more comfortable to carry hands free for riding a horse, or more likely, a bike.
I like the timeless, Old West look of the Rough Rider—it's tough and rustic with raw edges… Most of the Rough Rider is sewn on a 1940's machine that can sew a penny through a piece of wood—not that we do that—but the thread we use is sturdy as hell, and adds beautiful detail to the inside and outside of the bag.

– Gary Waterfield, the man behind these beautiful bags.
Buyers can get their Rough Rider in distressed "Grizzly" brown, with naturally tanned leather. They can choose nylon accents of black, copper, pine, grass, flame or pearl.

As an Amazon Associate I earn from qualifying purchases.