WD My Cloud Launches for Personal Cloud Storage Up to 4TB
Western Digital has launched a new hard drive and cloud storage solution called My Cloud, which allows users to essentially create their own cloud storage service, but have all their files stored on a local drive instead of company servers. Once users have My Cloud set up, they can access the files from any device with an internet connection from anywhere in the world.
My Cloud starts at $150 for the 2TB, which isn't a bad price at all, considering that you'll pay much more with other cloud services over time, and paying for terabytes of cloud storage can cost hundreds of dollars per month traditionally. My Cloud can be bumped up to 4TB for $250, giving you a ton of storage to put all of your media files in and have the ability to access them anywhere.
The My Cloud drives comes with USB 3.0 (which acts as an expansion option), gigabit ethernet for a wired connection, and DLNA support for streaming to Blu-ray players and set-top boxes. The drive also has a dual-core CPU built right in to handle any heavy leads, so it's essentially a full-on NAS storage option, making it quite the appealing product.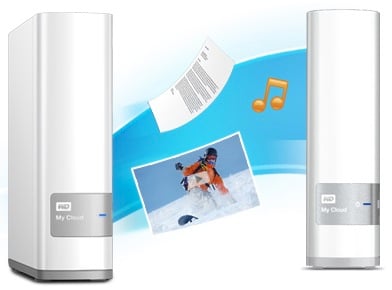 Furthermore, there are dedicated Western Digital My Cloud apps available for the desktop and mobile platforms. The My Cloud Dashboard for the desktop allows users to manage things like users, storage space and advanced settings, and there are dedicated mobile apps for iOS and Android that allow users to upload photos, videos and documents from their devices.
The drive also ships with SmartWare Pro software for the desktop, which allows users to control when and how their files are backed up, and Mac users can use Time Machine to backup files directly to the My Cloud drive, which is mighty convenient, given that Time Machine doesn't work with networked drives, other than a Time Capsule.
Plus, there's no need to completely ditch your current cloud setup, since My Cloud can integrate with other cloud services like Google Drive, SkyDrive and Dropbox, but if you wanted to completely ditch other cloud offerings and exclusively use WD's My Cloud, no one is stopping you.

As an Amazon Associate I earn from qualifying purchases.