Wear Your Geekiness with Pride on Geek Pride Day!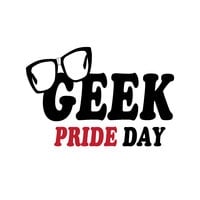 Did you know that today is Geek Pride Day! I didn't, so I guess that blows my geek cred out of the water. But apparently it is. May 25th was declared Geek Pride Day to commemorate the opening of Star Wars on May 25, 1977. It didn't really get "officially" acknowledged until much later in 2008/2009. Of course that makes one wonder who "officially" acknowledges these things, but no matter. Today we're supposed to celebrate our Geekiness. Or at least our pride about being a Geek.
Chip Chick points to a survey by tech staffing firm Modis that was apparently commissioned for the big day this year and you can check that out here of that survey out here. But here are a couple of interesting tidbits.
Apparently 41% of respondents would rather be called a geek than a jock (22%).
66% of those responding in the Millennials (ages 18-34) think being called a geek is a compliment.

As an Amazon Associate I earn from qualifying purchases.