Web-Based Windows Phone Marketplace Launching Alongside Mango Update
While Microsoft didn't detail it yesterday at its Mango event in New York City, the company today revealed its plans to bring forth a web-based Windows Phone Marketplace with the arrival of Windows Phone 7.1 aka Mango later this year.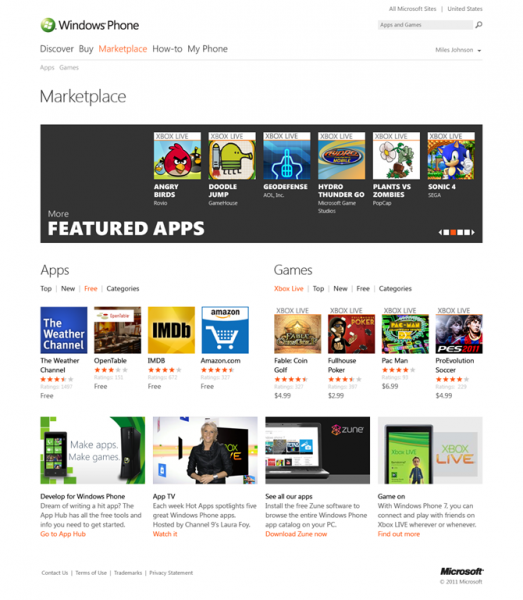 In a post on Microsoft's Windows Phone Developer Blog, Senior Director of the Windows Phone Marketplace Todd Brix detailed the company's plans to add a web-accessible version of the Windows Phone Marketplace that will not only allow Windows Phone device owners to browse different apps on their PC's but install them as well. This would put Microsoft's Marketplace  on par with Google's Android Market, Apple's App Store and Amazon's Appstore as all three of those already offer this.
In addition to being able to browse and install apps, the Marketplace will also feature ways to easily share your favorite apps across social networks like Facebook and Twitter making it easy for friends and family to discover the apps that you recommend.You'll also be able to share applications through the use of embedded links and email.
Microsoft's new Marketplace will also keep track of your download history giving you an easy way to re-install your applications should your phone get lost or stop working for whatever reason.
The web-based Marketplace again will roll out whenever the Mango update does and thus far, Microsoft has stayed mum as to when that will be only saying that it will take place later on this year.

As an Amazon Associate I earn from qualifying purchases.