Webinar Featuring Mnidjet MindManager Capability to Edit Mindmaps In Word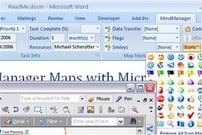 A few days ago we posted about an interesting new capability with Mindjet's MindManager software that allows users to edit mindmaps in Word 2007. Michael Scherotter, Solution Platform Product Manager at Mindjet, now informs us, that due to popular demand, he will be conducting a free Webinar on Using Word 2007 to Edit MindManager Maps on Tuesday, September 26, at 10:00am PST. You can sign up for the webinar here.
UPDATE: GBM reader Tom McGee signed up for the free webinar but shortly thereafter received an email saying it has been postponed to a later unspecified date. We'll update when we know the date.

As an Amazon Associate I earn from qualifying purchases.