Weekend House Cleaning on a Tablet PC
Most of my weekends are spent in my office at the theatre where I work. Saturday's are usually two show days with matinee and evening performances, and we also have Sunday matinee performances. With the administrative staff out for the weekend, I'm usually able to get a lot of work done, and also play a bit for GBM (this is usually the time that I do my InkShow recording.)
It is also the time that I do house cleaning and maintenance chores on my Tablet PC and also my UMPC(s). Most of that centers around backing up files and creating disk images. As I have the luxury of having several PCs at my disposal at the office, I don't usually set up and run most of these chores over night on my mobile devices (I do on my desktop devices.) Instead I prefer to do so on a Saturday or Sunday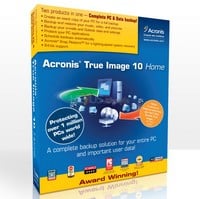 afternoon when I'm at the theatre alone in our office. I'll get things running on one device and do work on another. The primary task here is creating an image of the hard drive, but there are a number of things I do before and in addition to this.
I use Acronis TrueImage to image my mobile devices once a week. TrueImage gives you various options that range from incremental backups to full disk cloning. I prefer to make a full image each time. I create the image(s) on a portable hard drive. One of the nice things about this software is it allows you to browse an image and grab a file if you need it without having to restore the entire image. Acronis TrueImage is a great piece of software and I highly recommend it for this kind of chore.
But before I make an image, I'll go in and sweep a few things out from under the rug:
I'll clear out the the caches from Internet Explorer and Firefox.

I'll check in My Documents and file, or re-file, any document that might have gotten quickly tossed into that general bucket.

I'll clean out the Recycle Bin

I'll make sure that the Junk folder in Outlook 2007 is empty, and I'll also empty out the deleted items folder.

I'll also compress my .pst files in Outlook 2007. (File/Data File Management/Data Files/Settings/Compact Now)

Twice a month, I'll do a thorough hard drive cleaning. I'll move files that I have accumulated on my Tablet PC and UMPC hard drives to portable disk storage. These files include photos, media files, downloads, and a host of other things that I think should be pack-ratted away. I go back to these various archives that I create once every four months and dispose of anything that I don't think is worth hanging on to. A good hint to know what to delete-if you can't remember what the file is, get rid of it.)

In OneNote 2007, most files I capture go into the Unfiled Notes notebook until I'm ready to move them around. Some notes get moved around as soon as they are created. Some wait until the weekend house cleaning to get filed. After I do whatever filing I need to do, I'll optimize OneNote 2007 (Tools/Options/Save/Optimizing Files).

Every two months, I'll dispose of images I've created previously.
Once those items are taken care of, I'll fire up TrueImage and let it work its magic.

As an Amazon Associate I earn from qualifying purchases.