Welcome to our new Mascot, officially named "Splotch"!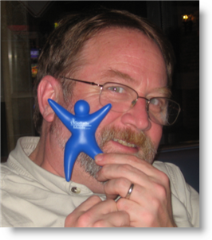 Well, the entries are all in, and after careful review, we have selected the name, "Splotch" (seen at right in his first intimate moment with our own Warner Crocker at CES in Las Vegas) as the new moniker for our beloved new friend and mascot.
Congratulations to forum member SuperRob for supplying the winning suggestion. Here is some of the text of his post which we thought did a pretty good job of illustrating why this name makes a lot of sense for a GotteBeMobile mascot:
"Considering I just left a real ink pen in a sweatshirt and ruined a load of laundry, the first thing I thought of when I saw this guy was … "Splotch"…..
Then I realized that not only the ink was coloring that name. One, the Seattle Sonic's mascot is "Squatch". The Cingular logo is frequently called the "Splat". So there's kind of a trend in mascots with "non-names". Then I realized that my first instinct was pretty on the mark. The one thing you really don't need to worry about when you go to a digital ink system is getting a "splotch" of ink on anything, which could be why I liked the idea of the mascot being something that you don't worry about any more."
Thanks to SuperRob, We will contact you shortly to deliver your very own Splotch and Amazon gift certificate!
Welcome to the GottaBeMobile team Splotch!

As an Amazon Associate I earn from qualifying purchases.