What 4G News Will Sprint Announce This Fall?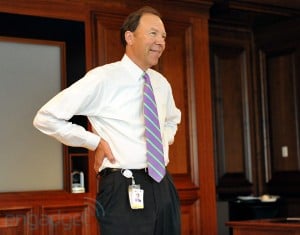 Sprint CEO Dan Hesse told Engadget that the third largest U.S. carrier will have an exciting 4G story to announce come this Fall, but remained vague on details. Hesse says, "We're going to come out with a great story this fall around 4G, and it'll all become clear."
There are a few possibilities of what that 4G story would be. One possibility could be a 4G WiMax-enabled iPhone 4S launching on Sprint. While Sprint is rumored to be getting an iPhone, along with T-Mobile USA to round out the top four U.S. carriers to sport the iPhone, thus far the iPhone rumors point to a world-phone CDMA-GSM model, not one with a multi-mode 4G WiMax radio.
Another potential could be the carrier opting to support LTE, either in addition to its WiMax network or in lieu of its WiMax network, as part of the carrier's new Network Vision strategy. Sprint has been rumored before to be toying with the idea of LTE to remain competitive with AT&T and Verizon, both of which have committed to LTE moving forward as 4G protocols.
Most recently, Sprint had entered into an agreement with LightSquared, though it's unclear if that deal will result in Sprint adopting LTE. Sprint is currently working with Clearwire for 4G WiMax at this time.
As Sprint has a lot of network spectrum, the potential for the carrier to run two simultaneous 4G networks is possible, but that strategy may cause customer confusion as customers may be confused why WiMax devices won't work in LTE-only coverage area and vice versa. Deploying simultaneous networks would be akin to what AT&T is doing now, boasting HSPA+ as 4G while trying to move towards LTE, which may cause confusion down the road when LTE gains momentum.
Whatever the case may be, the Fall timing may be timed around when CTIA Fall 2011 is scheduled.
Via: Engadget

This article may contain affiliate links. Click here for more details.