What a 4-Inch iPhone 5 Might Look Like
Analyst Brian White from Capital Markets earlier today stated that he expects Apple to bump up the screen size of the next iPhone to 4-inches. This sparked quite a bit of conversation which has culminated in a beautiful render of what a 4-inch iPhone might look like should it ever arrive.
The render comes from 9to5Mac reader Spencer Caldwell who has transformed the iPhone into a device sporting a 4-inch screen.
Caldwell has added more pixels vertically while employing the same amount of horizontal pixels which means the device's screen checks in at 640-by-1152 pixels. He has also elongated the home button on the device, making it much larger than the the home button found on previous incarnations of the iPhone.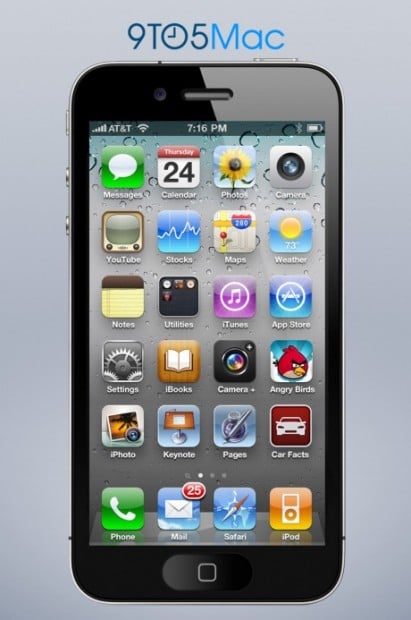 It also sports six rows of applications, up from four rows.
Right now, there are conflicting reports about the next iPhone. While it's almost certain to include 4G LTE data capabilities, the rest of the device remains an unknown.
Earlier reports pegged the device as having the same 3.5-inch screen, the same screen size as all of the previous versions of Apple's iconic smartphone. However, that report also left open the possibility of Apple bumping up the size of the screen.
White's report on the 4-inch iPhone 5 picked up some steam today after a user posted a very through explanation about how Apple could, in theory, bump the iPhone's screen size without increasing the size of the phone itself.
Read: Why I Want a 4-Inch iPhone.
At least one person, Daring Fireball's John Gruber, seemed to think that the theory could actually be more than a theory.
Of course, we probably won't know how big the size of the screen is until Apple releases the next iPhone, which is expected to happen this October.
What do you think of the render? Would you buy this iPhone?

As an Amazon Associate I earn from qualifying purchases.