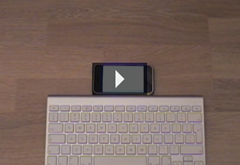 Wow. Who would have thunk it? A Bluetooth keyboard connected to the iPhone to make some text entry easier. Amazing. I'm surprised no one has ever thought of this before. Oh, wait a minute. We've been able to do this with other phones for, well, it seems like an eternity in mobile computing years.
Sarcasm aside, it is a shame that you have to jailbreak your iPhone in order to achieve this very basic functionality that has existed on other platforms for quite some time. But if you're willing to take that ""illegal" step,  you can bring your iPhone up to snuff with the rest of the world according to this guy. Check out the video and info.

As an Amazon Associate I earn from qualifying purchases.