What Apple Left Out of the New iPad Announcement
Apple announced their new iPad 3 today with a lot of interesting new features including a Retina Display, 4G LTE, faster processor and slightly thicker body, but they left out some really great things.
(Read: New iPad Announced: Faster, Retina Display & 4G LTE)
Here are the features that users, including our staff, wish Apple would have announced at the new iPad event.
(Watch: Apple iPad Event Online)
Which of these features do you wish the new iPad had?
Siri
We will get voice dictation in the keyboard like you do with iOS 5 on the iPhone, but you don't get full Siri. You can't hit the home button to engage Siri and ask questions to search for things. I also hoped that you would be able to interface with apps and your Settings via Siri on the iPad, but that's not available either.
I know some app developers who want to harness Siri in their apps. I'd love to hit the home button to start Siri and say, "Find hotels in Charlotte" and have it open Hotels.com and search for hotels in a city I'm planning to visit. Apple left this out and I'm disappointed.
Thunderbolt Port
I hate the stupid dock connector! I know why they use it. It's thin. The MacBook Air has a Thunderbolt port and it's pretty thin. They can get it in there and make the change allowing super fast transfer of apps, video, music and pictures. We could also connect to Thunderbolt displays and, using the same dongles used with a Mac, directly to VGA or DVI enabled displays. Other ports people wanted include an SD card slot, USB and HDMI.
128GB Storage
Many wanted a higher capacity storage, especially now that the screen will require higher resolution art in apps and the camera has a higher MP rating. The iPhoto app will cause people to want to edit photos and 16GB, 32GB and even 64GB will fill up quickly.
Facetime Over 4G
You can Facetime with people over Wi-Fi but you will have to jailbreak your device to Facetime over 3G/4G. Apple didn't add it and for some of us it will remain a nearly useless tool.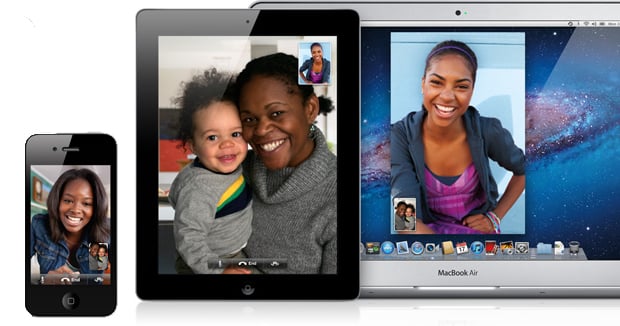 Senseg Touch Capability
Early on the day of the announcement we heard that Apple would add a new technology from a company called Senseg, that lets you literally feel textures onscreen. It sounded dubious, but would have been cool if possible.
New Accessories
With the past iPad announcements we learned about new accessories. Today we got nothing! Now new cases or docks. Nothing!
We even shared 5 Awesome New iPad Accessories We Wanted.
Availability This Week
I'm impatient and I want my new iPad now! I wish they did a "one more thing" by saying I could preorder today for delivery Friday. Instead we have to wait till next week March 16th at 5 PM.
Thankfully you can still preorder the new iPad, if the Apple store stays up.
Apple HDTV
We heard that Apple might announce a new HDTV. Those rumors went cold just before the event, but it seems like a possible new business for Apple. They already make great, even if very expensive, displays.
The current 30″ Apple Thunderbolt Display would fit the smaller TV market and then add a larger one for the living room.
Put the set-top Apple TV software on it and you have a nice TV.