What Are You Looking For in a BlueTooth Headset?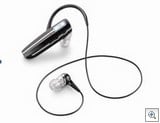 Yesterday Plantronics introduced the Voyager 855 BlueTooth headset and the announcement certainly met with lots of noise. The Voyager 855 BlueTooth is the first mono-to-stereo convertible BlueTooth headset using Plantronics DSP noise reduction. You get some customizaton depending on your listening needs. We're on the list for a review unit of this headset and I'm also going to be getting my hands on another Bluetooth headset that is making some noise in the market, the Aliph Jawbone. I'm going to be giving these a once over, but as this is something we'll be looking at in the next few weeks, I'm curious. Tell us what you are looking for in a BlueTooth headset. What are your priorites? Sound quality? Comfort? Looks? Music playback? Lots of options out there and I'm certain there lots of criteria out there as well. Sound off and let us know.

This article may contain affiliate links. Click here for more details.