What Are You Missing With Tablet PCs?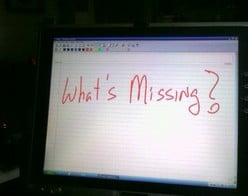 We are starting to get some very detailed, though not yet complete, info and opinions about the next generation of Tablet PCs and what Vista will offer to Tablet PCs. This is a good thing. Rob Bushway has highlighted some of what he likes and dislikes with Vista, as have others. So, here's a question that I hope will yield some responses beyond complaints about battery life, more ink-enabled apps, and things we all know we need to see. What are you missing with Tablet PCs? What features would turn the corner for you in making a purchase decision? The same questions certainly applies to UMPC/Origami as well. Here are my big two:
More native inking in the OS.
More Tablet PC choices with high-res screens.