What Hardware is Amazon Building Next?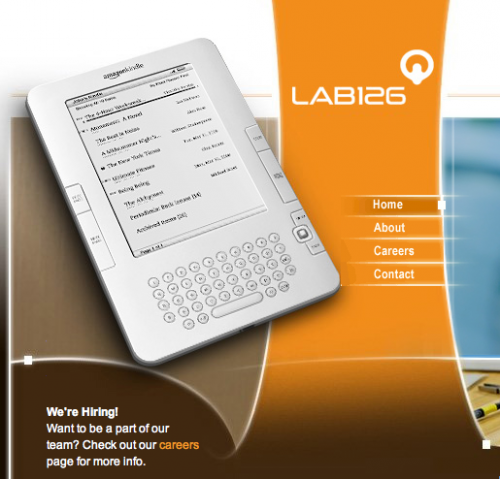 Many of us wondered if Amazon's first foray would be a success or flop when the company introduced the Kindle three years ago. The Kindle has since become Amazon's top selling product. With the succes of the iPad, some people have suggested that Amazon should get out of the hardware business and focus on expanding its application and eBook store development. Well, it looks like AMazon has other plans.
Nick Bilton of The New York Times wrote an article opining to the fact that Lab,126, a division of Amazon.com focused on the Kindle, has 80 job openings. From the article:
…building more hardware products would be a means to an end. This person said Amazon wants to make more devices for consumers that would enable simple purchasing of Amazon content including its digital books music and movie rentals and purchases.
Based on the job descriptions, it's pretty clear that Amazon is moving beyond eReaders as we know them. Maybe the company's next product will be a color eReader, an Android slate or an iPad-like device.
Maybe Amazon is working on the ultimate eShopping device. As Warner Crocker has pointed out several times here at GBM, slate devices are all about advertising and selling stuff to consumers. Kindle has a lot of stuff to sell to consumers, including digital content.But there's an even larger opportunity here for Amazon- the company is one of the largest retailers of physical goods in the U.S. Anyone company can sell apps and video rentals, but Amazon makes a lot of money selling everything from paper-towels to HDTVs. Over the years, Amazon's pushed etailing forward.  I'm not sure what the ultimate eShopping device and application would look like or do, but Amazon's always found ways to make it easier to buy stuff. Its efforts have thus far been largely limited to the browser.
Lab 126 is located in Cupertino, an area that has quite a talent pool of hardware designers. Amazon does not technically have any employees in California and owns a number of subsidiaries, including A9, to allow them to work independently and to keep Amazon shopping tax free for California residents.

This article may contain affiliate links. Click here for more details.