What iOS 6 Tells Us About the iPhone 5
While Apple didn't announce the iPhone 5 yesterday at WWDC 2012, what it did announce may have provided us with clues about Apple's next iPhone model.
Yesterday, Apple CEO Tim Cook and his colleagues took the stage and announced the company's next mobile operating system, iOS 6. iOS 6 is going to be coming with over 200 new features when it arrives for the iPhone, iPad and iPod touch.
Apple, as expected, did not announce the iPhone 5 yesterday in San Francisco but some of the features included in iOS 6 seem to hint at what we can expect from the company's next smartphone.
Read: 40 iOS 6 Features You'll Actually Care About.
Fall Release Date
Tim Cook and Co. did not mention a specific release date for iOS 6 but they did say that it would be released sometime during the fall of 2012. Assuming Apple follows a formula similar to the launch of iOS 5 and the iPhone 4S, we should see the iPhone 5 launch during the fall as well.
Read: Phone 5 Rumor Roundup: Release Date, Design, Display & iOS 6.
There is still a debate over whether the device will launch in September or October but one thing is clear. If Apple is indeed releasing an iPhone this year, it's going to release it this fall with its new mobile new software.
4G LTE
The next iPhone is expected to possess 4G LTE capabilities when it arrives and there is a very big clue that seems to point to this as being the case.
One of the features included in iOS 6 is the ability to use FaceTime over cellular data networks, both 3G and 4G. This is going to put a strain on the networks that carry the iPhone which include AT&T, Sprint and Verizon.
Sprint doesn't yet have its 4G LTE network fired up and without it, FaceTime over its 3G network could be crippling.
Better FaceTime Camera
One of the features that iPhone users have been clamoring about is a better FaceTime camera for the iPhone. While the rear camera on the iPhone 4S is stellar, the front-facing camera leaves something to be desired.
We've heard rumors that Apple might be including an HD FaceTime camera on the iPhone 5 and iOS 6 seems to back that notion up.
iOS 6 again is going to introduce FaceTime over cellular which means that people are going to finally be using the front-facing camera outside. If Apple expects its customers to actually use the service outside, it's going to need to upgrade the camera as the current one won't be up to the task of handling outside environments.
iPhone Will Replace More Devices
Over the years, as the iPhone has gained more advanced features, it has replaced devices that were once commonplace.
Point and shoot cameras are dying out because of amazing camera sensors that Apple has placed in the iPhone, especially the one found in the iPhone 4S. The iPhone has also replaced things like mp3 players, kitchen timers, lights on a keychain, and books and magazines, just to name a few.
With iOS 6, it appears that the iPhone 5 could start replacing standalone GPS devices as Apple has partnered with TomTom for its new Maps application in iOS 6.
This could very well be a sign that TomTom, and many other Personal Navigation Device manufacturers might be moving out of the hardware side of things sooner rather than later.
New Microphones
With iOS 6, Apple has improved Siri exponentially. It can now open applications, check on sports scores, read notifications from most applications, look up movie times and play movie trailers, help find restaurants and make reservations, and post tweets on Twitter and posts on Facebook.
What's clear is that Apple is trying to get people to use Siri and take it seriously. I've talked to many iPhone 4S owners who rarely, if ever, use the personal assistant. Some complained about the lack of features but others talked about how Siri often fouled up what they were saying.
That being said people might start to use it and take it more seriously if Apple were to improve the microphones and the microphone recognition on the iPhone 5.
Apple has introduced dual-array mics on the new MacBook Pro, something that is common on Dell and Lenovo business laptops and a feature that produces a noticeable improvable over standard dual-microphones.
Improved Rear Camera
The iPhone 4S possesses what is arguably the best rear camera on a smartphone. However, with Nokia poised to launch its PureView camera technology on its Windows Phone devices, Apple might have to make a move to stay ahead of the pack.
Apple mentioned several enhancements to iOS 6, bringing additional performance features and hinting at further control of focus and exposure. There's only so much that can be done with software, so Apple may upgrade the camera as well.
Durable Design
Apple has been partnered with sports company Nike for quite some time now. In fact, Nike+ has been built into the core iOS. And now, with sports scores coming to Siri in iOS, it's clear that Apple has placed importance on sports and those who watch them.
The company has also baked in turn-by-turn directions into its new Maps app in iOS 6 which, like the focus on sports and the improvements to the camera, seems to point to the company trying to appeal to those with an outdoors lifestyle.
We have heard that Apple might be making the iPhone 5 waterproof and while that might not be the case, it seems, at the very least, that Apple might be aiming to make the iPhone 5's design more durable.
Global Roll Out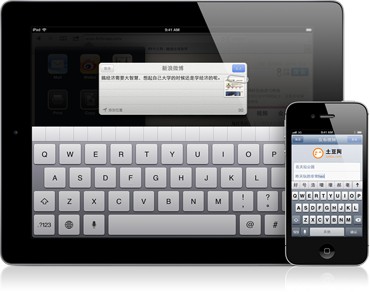 On the business side of things, Apple has been making a strong push into China, opening retail locations and launching its iOS-powered devices.
The importance that Apple has placed on China is evident in iOS 6 as a number of Chinese-specific features will be arriving with the software.
Some of those features include improved text input and built-in support for popular Chinese Internet services like Youku and Tudou.
China got the iPhone 4S a couple of months after the United States and other launch countries then but with the amount of Chineses-specific features found in iOS 6, Apple might be preparing to narrow the release date gap between the two countries with the iPhone 5.
Improved Display
The Retina Display on the iPhone 4S is up there with the best smartphone displays in the world but Apple might be thinking about improving upon it.
iOS 6 is going to be bringing FaceTime over cellular which means that users will be video chatting outside.
During the day, the glare from the sun could make that very difficult which could mean that Apple is thinking about putting the same anti-glare coating it put on the new MacBook Pro's Retina Display on the display of the iPhone 5.
We've also heard that Apple might be launching the iPhone 5 with a 4-inch display which is a much better display for FaceTime chatting.

As an Amazon Associate I earn from qualifying purchases.