What iPhone Thieves Will See After the iOS 7 Release
Apple announced a new iOS 7 feature design to stop iPhone theft by locking the iPhone and iPad to a user account. This isn't the kill switch that police and legislators called for, but it is a good start to discouraging iPhone theft.
iOS 7 will now ask if a computer should be trusted when plugged in for the first time and if a user attempts to restore the iPhone while Find My iPhone is on it will fail.
With these iOS 7 restrictions in place thieves will no longer be able to steal an iPhone, wipe it clean and resell it. As long as no one finds a work around, this could significantly reduce the demand for a stolen iPhone.
If there is no way to wipe it clean, it will prove difficult to sell the used iPhone, at least to some one who wants to use it again. In theory the iPhone could still be broken down for parts, but iPhone thefts reportedly often end up resold in specific neighborhoods or shipped overseas.
Watch: iOS 7 Beta: Video Tour of New iOS 7 Features
When plugging an iPhone running the iOS 7 beta into a new Mac, the iPhone popped up the message below, asking if it can trust this computer. If the iPhone is locked it will require a user to unlock it before this happens. Even if users don't lock their iPhone, they will be able to use Find My iPhone to lock it after it is lost or stolen.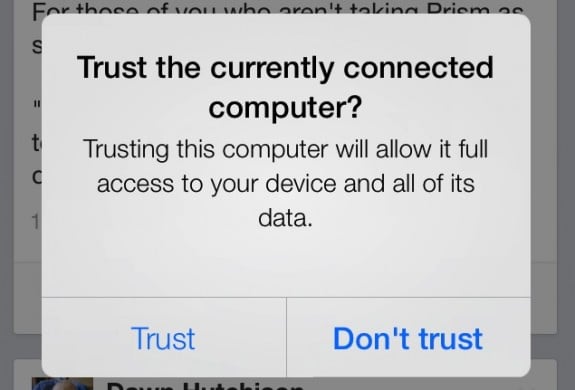 Even if the thief is able to connect a stolen iPhone to a computer before it is locked and click Trust, iTunes will not restore the iPhone if Find My iPhone is turned on. This should make it impossible to restore the stolen iPhone to stock and sell it to someone else.
If we can't stop iPhone theft with officer deterrents and educating users about the dangers of walking down the street holding a gadget worth $600 in their hand, hitting the secondary market could be the best way to limit iPhone theft.
Apple announced many iOS 7 features at the WWDC 2013 Keynote this week, including a complete overhaul to the look of the iPhone user experience and 50 iOS 7 features you'll actually use. The iOS 7 release date is set for fall, when it will arrive on the iPhone 5, iPhone 4S and iPhone 4 as well as recent iPad models. Users can get the iOS 7 beta today, if they are ok with some possible hiccups.

As an Amazon Associate I earn from qualifying purchases.