What is HP's New webOS Pivot?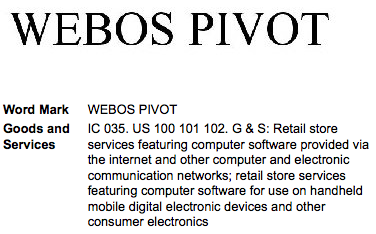 A recent trademark application filed with the U.S. Patent and Trademark Office was discovered revealing a new webOS Pivot mark, though not much information is known about Pivot at this time. According to the USPTO filing description, webOS Pivot is for goods and services, and is for:
"Retail store services featuring computer software provided via the internet and other computer and electronic communication networks; retail store services featuring computer software for use on handheld mobile digital electronic devices and other consumer electronics."
The description seems vague enough and it's unclear how HP will leverage the Pivot brand and its association to webOS, which is the mobile operating system that the company had acquired as part of its buyout of Palm.
Pre Central
notes that it could range in scope from a new point-of-sale system, perhaps like how Apple is using iPod Touch devices connected to a credit card reader to process sales, to a new App Catalog or in-app purchases.