What Mobile Gear Do You Lug On Vacation, If Any?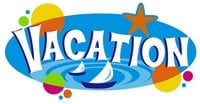 Summer is upon us and for some that means thoughts about the traditional vacation season. This article points to a survey that says 1 in 5 now plan to tote a laptop with them while they are trying to do some relaxing. Some say being connected is less stressful than not. Checking in now and again can relief the stress, and if you've ever been unplugged on a vacation and gotten back to an overflowing inbox I'm sure you have some empathy there. Some say they limit their work while on vacation, and I'm in that camp. Some of course just unplug.
What's interesting here is the focus is solely on those who tote along mobile gear to check back into work. What about those who take their gear along for entertainment? I know I do, even on short jaunts away.
So, I'm curious? How many GBM readers out their wouldn't be caught without their Tablet PC or UMPC on vacation? How many completely unplug and leave their gear at home?

As an Amazon Associate I earn from qualifying purchases.