What Should Apple Call the New iPad?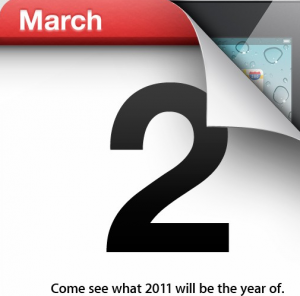 The next-generation iPad will be announced next Tuesday (March 2nd) and most pundits are dubbing the device the 'iPad 2.' There are a lot of things unknown about the next-gen iPad, including its price and specifications. But one thing's for sure- Apple's not going to call this thing the iPad 2.
Apple generally keeps product names around for a very, very long time and simply adds a few letters or a second word onto the original product name when it's time for an update. Like the iPod, iPhone, MacBook, PowerBook and iMac before it, the iPad will most certainly keep the 'iPad' moniker. But it will probably get at least an extra letter or two to differentiate it from the original.
The way I see it, there are a handful of likely names for the new iPad:
1) iPad – Apple may just stick with the original name. If it ain't broke, why fix it?
2) iPad (2nd generation) –  Apple may stick with the iPod Nano and iPod Touch generation by emphasizing the core product name and relegating the 'generation' to a footnote.
3) iPad 4G – Apple may hop on the 4G bandwagon and go with what everyone else seems to be doing these days now that both Verizon and AT&T are promoting their 4G networks. Who knows, Apple may very well decide to put wireless broadband goodness in every iPad, reducing the number of products in needs to stock and allowing WiFi-only types to switch on 4G at a later date.
4) iPad HD – The new Apple iPad will likely have the same resolution as the original iPad, but there's a chance it might have a higher resolution display. In that case, the HD part of the 'iPad HD' name would make a lot of sense. Even if the new iPad has the same screen resolution as the old model, the new one will likely have improved graphics performance, making it capable of running more immersive video games and apps. The HD tag could also describe the built-in cameras, one of which should be capable of shooting HD video.
5) iPad S -If this iteration of the iPad ends up being a relatively minor update, Apple may just slap an S on the box to indicate Speed. That's exactly what Apple did with the iPhone 3GS, which looked exactly like the iPhone 3G.
6) iPad Pro – Apple will probably talk about how the iPad is making its way into more and more businesses and show off some business apps at its press conference. The BlackBerry PlayBook is set to take on the iPad in the enterprise and an appeal to IT managers may give the iPad an extra boost.
7) iPad Duo – A lot of iPad users use a keyboard to type. There's a chance Apple could introduce a polished case/keyboard accessory and borrow an old PowerBook series name.
So what do you think Apple will dub the new iPad? Will Apple stick with something short and sweet? Or get all crazy with the name?  What would you tell Steve Jobs to name Apple's next big product?

This article may contain affiliate links. Click here for more details.