What the Galaxy S7 Tells Us About the Galaxy Note 6
The upcoming Galaxy Note 6 release date is still months away, but that doesn't mean we don't have an idea of what to expect from Samsung's next Galaxy. In fact, combining the recent release of the Galaxy S7 with rumors about the Note 6, we now have some thoughts on what Samsung could deliver later this year in the Note 6.
In late February after months of reports and rumors Samsung finally unveiled the newly improved Galaxy S7 and Galaxy S7 Edge. Announced on February 21st and released on March 11th, a full month faster than the Galaxy S6 last year. We know the company wants to release phones faster, and new reports are suggesting exactly that for the Galaxy Note 6.
Read: Galaxy S7 Release Date, Specs, Features & Video
As we all expected, the Galaxy S7 is Samsung's best smartphone to date. It has a stunning design similar to last year, improvements across the board, a much bigger battery, the micro-SD card is back and it's even water resistant. This year though, the Galaxy S7 is 5.1-inches again, but the Galaxy S7 Edge is 5.5-inches, bridging the gap between the bigger Galaxy Note 5.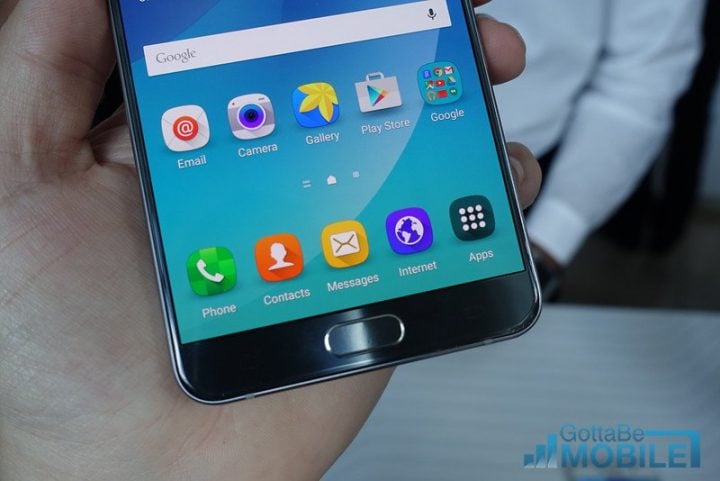 Last year the Galaxy Note 5 arrived earlier than anyone expected, with an August announcement and release date. The Note 4 the prior year, wasn't announced until September and didn't get released until very late October. Meaning last year it was two months earlier than expected.
So what does that mean for the Galaxy Note 6 this summer or fall? Well, if the Galaxy S7 release date is any indication the Note 6 could be a beast of a smartphone, have an even bigger screen, huge battery, tons of upgrades and be released before the end of the summer, not in August or September. Samsung's last two releases have been earlier than anyone expected, and if the Note 6 follows that trend, it will be here in under four months. Here's what we could expect based on leaks, rumors, plausible upgrades, and what we're seeing from Samsung in the Galaxy S7.
Release Date
The Galaxy Note 5 was released two months earlier than the model before it, and now in 2016 the Galaxy S7 arrived a month faster than the year prior. If that track record tells us anything, Samsung will deliver the Galaxy Note 6 earlier this year than ever before.
With a new iPhone 7 likely on tap for September (although some rumors suggest even earlier) this year more than ever will be very important for Samsung to get the Note 6 right, and get it in the hands and eyes of buyers as soon as humanly possible.
A new report out of Korea claims the Galaxy Note 6 will be released a month earlier than last year, in July rather than August. If that's accurate, we could see an early to mid July launch event, followed by a quick release date 2-3 weeks later. Nothing is remotely official yet, but expect the Note 6 to be available sooner than the Galaxy Note 5 was in 2015.
Bigger Quad-HD Display
Last year the Galaxy S6 was 5.1-inches, and the Note 5 (and S6 Edge+) was 5.7-inches, a clear difference in size. For 2016 though, we have a 5.5-inch Galaxy S7 Edge, so the typical screen size for the Note 6 may not make sense.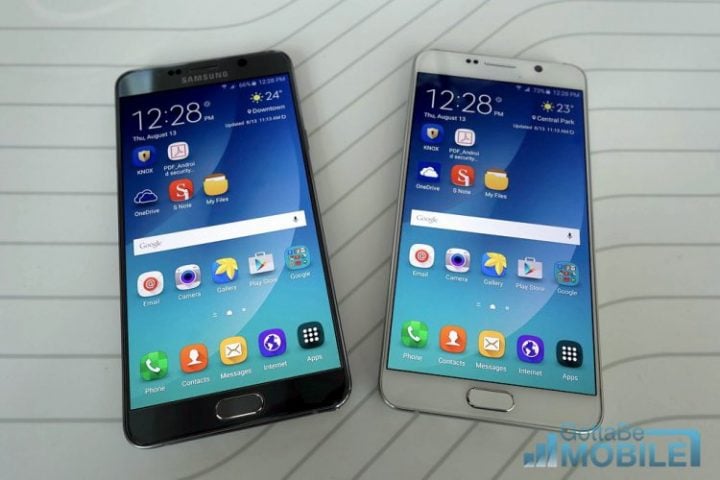 Instead, it's possible Samsung could slightly increase the Galaxy Note 6 screen to 5.8-inches with a beautiful new Quad-HD display, but keep the size physically the same (or smaller) than the Note 5, just like we're seeing with the Galaxy S7 and it's sleek design and slim bezels.
In fact, the report linked to above claims it will be released earlier than anyone thought, with Android N on board, and with a 5.8-inch display, but more on all those details will come in a moment. All said and done, with a 5.5-inch Galaxy S7 Edge, Samsung needs to offer something slightly bigger in the Note 6. Earlier this year we heard rumors of a 6-inch Galaxy S7 Plus, but that could end up being what turns out to be the Note 6. It's all a guessing game for now, but I doubt we'll have to wait long to officially find out. That said, Samsung could keep the design nearly identical, like they did with the Galaxy S7. If that's the case we can expect a similar 5.7 or 5.8-inch display, and nothing bigger.
Improved But Similar Design (Water Resistant)
Speaking of the design, buyers can assume that Samsung will make the Galaxy Note 6 IP68 dust and water resistant just like the Galaxy S7. It's a popular feature that many love, a key selling point, and something that wouldn't be too hard to implement into the Galaxy Note 6. Most likely the design will remain nearly unchanged, be slightly thicker to pack a bigger battery and water-resistant seals, but there are a few other things to consider.
How does Samsung make it water resistant and still keep the S-Pen stylus everyone loves about the Note 5? Well, a report from earlier this year suggests the S-Pen will be on the outside, not the inside, and actually fold-out and double as a kickstand. This could allow for a similar yet improved water-resistant design, while retaining all the features Note users love.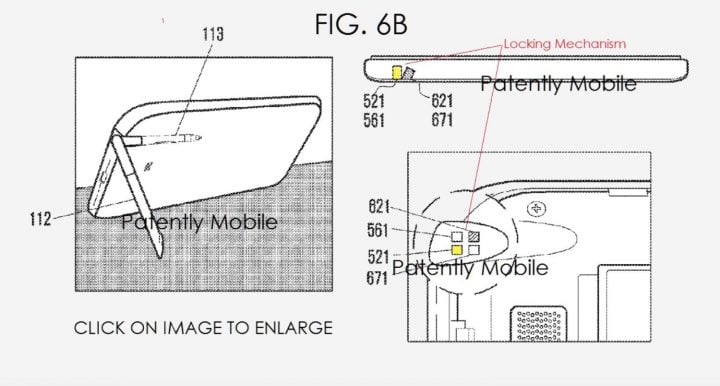 The image above is just a render based on some early rumors and patent materials, but it could give us an idea of what to expect from the Galaxy Note 6. Having the stylus fold out would give Samsung the water resistance on the inside, add an extra feature and another unique selling point. We're not sure if this will ever happen, but it makes sense.
Either way buyers can expect the Galaxy Note 6 to look similar to the Note 5, no matter what size the screen is. We'll have the same wireless charging, fast charging, Samsung Pay, maybe even USB Type-C, and plenty more to love. If a July release date is accurate, leaks should start surfacing in the next month or two painting a more clear picture.
Micro-SD Slot & Additional Storage
Just like the Galaxy S6, the Galaxy Note 5 didn't have a micro-SD slot to expand storage or a removable battery. Two features everyone loved from the S5 or Galaxy Note 4. Samsung learned their lesson with that, and returned the micro-SD card for the Galaxy S7.
It's safe to say the Note 6 will almost certainly have a micro-SD card for storage expansion, especially now that 200GB micro-SD cards are getting cheaper by the day. However, Samsung recently started pass producing 256GB internal storage chips, which could debut on the Galaxy Note 6. That would be impressive, and likely very limited. The Note 5 came in 32 or 64GB configurations, which wasn't enough for most. A micro-SD card could fix that, but expect to see 32 and 64GB options again, maybe even 128GB, and the micro-SD card slot should still be included. The best of both worlds for Samsung's flagship.
Latest Android Software
The Galaxy S7 and Note 5 were both released with Google's latest version of Android. The Note 5 had Android Lollipop, and the Galaxy S7 is running Marshmallow. Now that Android N has already been announced with a "summer release date" we can expect the Galaxy Note 6 to have it out of the box.
Many Galaxy Note 5 owners are still waiting for Android 6.0 Marshmallow, but that won't be the case with the Galaxy Note 6. The report above claimed it will run Android N, and with Google's new software having tons of multi-screen features to run two apps simultaneously, this will be perfect timing for the July Galaxy Note 6 release date.
Read: Android N vs Android 6.0 Marshmallow: What's New
If Google can deliver on its promise of a summer release date of Android N, most likely they'll be working closely with Samsung to have it be one of the first official Android N devices. Especially given Samsung has many of those multi-window features already, a big screen, and stylus support. We're even hearing Android N could have a "freeform window mode" where multiple apps can be opened and re-sized similar to a desktop computer. It's all starting to come together.
Note 6 Specs & Camera
The Galaxy Note lineup always has the latest and greatest technology, as it's released later in the year and lets Samsung use the best. Even if it arrives in July this year, the Note 6 should still be a beast. And while it's far too early for any spec sheets, below is what we could see from the Galaxy Note 6 based on previous phones and upgrade cycles, what's available now, rumors, and what we'd like to see.
Galaxy Note 6 Specs (Speculation)
5.8-inch 2560 x 1440 Quad-HD (or 4K) Display
Samsung Exynos 8-core Processor with 4-6GB of RAM (Rumors suggest 6GB)
36/64GB Storage with micro-SD support to expand storage
Android 6.1 or 7.0 "N"
12 or 16 DualPixel Camera with IOS, similar to the Galaxy S7
5-8 MP Front Camera with f/1.7 aperture
Premium all metal design
Fingerprint Scanner, Samsung Pay, USB Type-C
Fold-out S-Pen stylus that doubles as a kickstand
3,900 mAh Battery with Fast Charge (QC3.0), Fast Wireless Charging
IP68 dust and water resistant
more
It's quite the list, but everything mentioned above is highly possible for the Galaxy Note 6. Samsung typically uses its own processors, adds more RAM, the latest cutting edge features, and its slightly better than the Galaxy S7 in select areas.
The Galaxy S7 only has a 12 "megapixel" camera, but it's reportedly much better than the 16 megapixel camera from the Note 5, Galaxy S6 and more. Using a new Dual Pixel technology for blazing fast auto-focus, improved low light, and a fast f/1.7 aperture. We could see something similar yet slightly refined for the Note 6.
Amazing Battery Life
If Samsung's trend of finally putting huge batteries inside the Galaxy S7 and Galaxy S7 Edge is any sign, the Galaxy Note 6 will be the true battery life king of 2016. The tiny Galaxy S7 has the same 3,000 mAh battery as the Note 5 from last year, and the bigger 5.5-inch Galaxy S7 Edge has a massive 3,600 mAh battery inside.
If we take an improved design, slightly bigger body like the S7, and more space from a bigger screen Samsung could and should easily put a 3,800 or 3,900 mAh battery in this phone. It will need to be better than the Galaxy S7 Edge, so it could even be a 4,000 mAh battery. Yes please.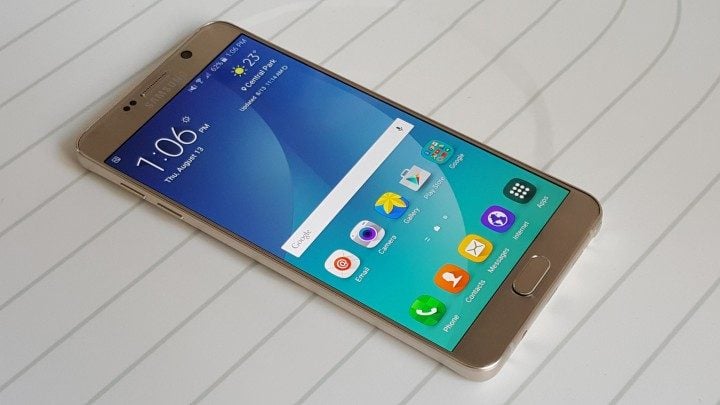 Add in the fact that Google's making substantial changes in Android N to refine battery life even more, and things are looking very promising for the Galaxy Note 6. Android N takes "Doze" from Android 6.0 Marshmallow and makes it more aggressive, similar to iOS, which could give phones nearly 30% improved battery life. This is done by putting apps into a low-power sleep state when not in use. With Android N Doze will work when the screen is off, not just when a device is not in use like in Marshmallow.
Expect big things from Android N, and big things from the Note 6, which should result in one of the best smartphones ever released.
Galaxy Note 6 Without Gimmicks
More clear now than ever is Samsung wants to offer an excellent experience. The Galaxy S7 still has their "TouchWiz" interface over stock Android, but it's the best version yet. It's refined, slimmed down, fast, fluid, and isn't bloated with gimmicky features no one will ever use.
Combine the continued efforts by Samsung to refine the software with Android N adding native fingerprint support, multi-window mode for better multi-tasking, quick settings in the notification bar and more, and Samsung won't have to add all those gimmicks. It will just be a powerful and capable smartphone with a huge screen, all day battery life, a stylus for those who want it, and much more.
Galaxy Note 6 Edge (Galaxy S7 Edge+)
And last but not least, we could see another massive curved screen smartphone from Samsung. Last year they surprised everyone with the Galaxy S6 Edge+, featuring nearly everything the Note 5 had but with dual curved edges on the 5.7-inch screen.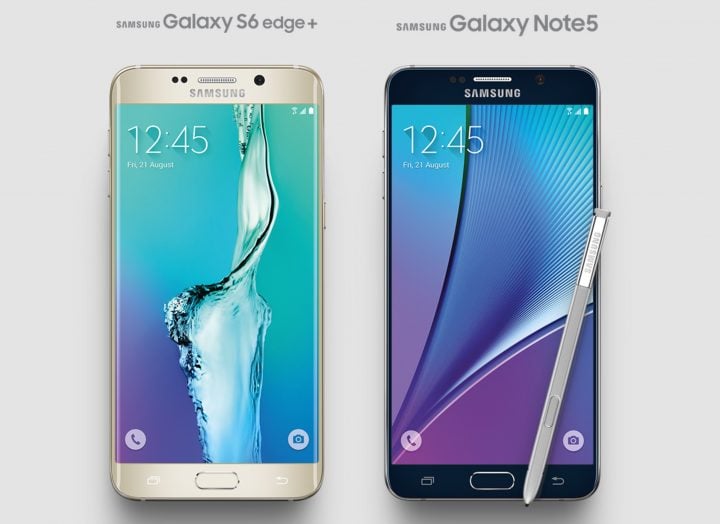 This year Samsung could offer a Note 6 Edge, a bigger 6-inch Galaxy S7 Edge+, or something else entirely. Things are always changing, evolving, and as fluid as ever, so it is anyone's guess at this point.
At the end of the day though, the Galaxy S7 is a sign that Samsung's working hard, listening to consumers and feedback, and want to appeal to as many buyers as possible. Whatever comes in July or August should be one very excellent, very capable smartphone that surpasses the Galaxy S7.

As an Amazon Associate I earn from qualifying purchases.