What Time Will iOS 5 Be Ready to Download?
Apple has promised that iOS 5 will be released today, October 12th.
UPDATE: iOS 5 is out, get downloading.
If you are on the East Coast, you are probably finishing up lunch, wondering where iOS 5 is. We are also getting a lot of questions from readers who want to know why other people have iOS 5, but they haven't received a notification yet.
Good news, iOS 5 is almost here, and there's nothing wrong with your computer.
When will iOS 5 Be Available?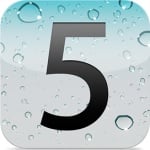 Apple typically releases iOS updates at 10 AM Pacific (1PM Eastern). This timing is never a sure thing though. We have seen updates like iOS 5 come later in the day, around Noon Pacific  (3 PM Eastern) and on the rare occasion later in the day.
We expect that iOS 5 will be here sooner rather than later, so calm down. The users you see posting iOS 5 screenshots and videos are part of eveloper programs, or paid to be a part of an early release of iOS 5. You will get iOS 5 shortly.
In the meantime, why not get ready for iOS 5 be reading up on Apple's newest iPhone and iPad software.
Once you get iOS 5 installed, take a look at how to use Notifications in iOS 5, and check out the Find My Friends App.

As an Amazon Associate I earn from qualifying purchases.