What to Do When You Lose Your Apple TV Remote
If you lost your Apple TV remote, not all hope is lost. Here's what you can do if this happens to you.
The small and thin remote that comes with the Apple TV has a really cool design to say the least, but it's tiny size also means that it can get lost pretty easily. I've heard many stories about Apple TV owners losing their remotes and not being able to find them, which begs the question, what can you do if you lose your Apple TV remote?
The rumored Apple TV 4 is said to come with an all-new remote that's bit more chunkier than the current offering, and that's mostly thanks to the possibility of a touchpad that will be built into the remote. The larger size should make it less easier to lose in between the couch cushions, but for now, we have to make due with the tiny remote of today.
If you happened to lose your Apple TV remote, there are a few things you can do and other devices that you can use as a remote for your set-top box. Here are some of your options.
Use a Bluetooth Keyboard
You might have not known this, but you can use a Bluetooth keyboard to control your Apple TV instead of a remote. It might be a bit bigger than the Apple TV remote, but if you lost your remote, a keyboard can be a good alternative.
The only requirement is that keyboard must have Bluetooth, since you can't connect a keyboard to the Apple TV any other way.
Once you have it connected, though, it can be way better than a remote in some ways. For starters, it's way easier to type in TV shows or movies when you're searching for one to watch, as you don't have to do the tedious peck-and-hunt with the Apple TV remote. Plus, if you use a keyboard that's as small as the Apple Bluetooth keyboard, you can easily set it on the coffee table without taking up make space.
Use the iPhone Remote App
Apple has its own app called Remote that can essentially turn your iPhone, iPad, or iPod Touch into an Apple TV remote.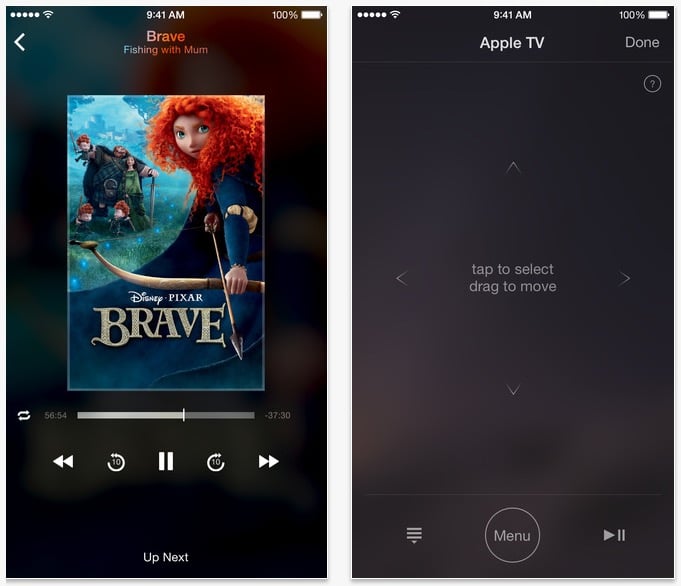 The app has a couple of different uses. You can have it control your iTunes music on your computer, which can be great for parties and such, and you can also use it to control your Apple TV.
The app includes a touchpad of sorts that lets you navigate through the menus using touch gestures and there's even a keyboard that pops up when you click on a search box or other text box, making it a great alternative over the Apple TV remote in the first place, whether you lose the remote or not.
Buy a New Apple TV Remote
What you might want to do anyway at the end of it all is just go ahead and buy a new Apple TV remote.
A brand-new Apple TV remote costs $20, which can be a bit steep for sure, but you can also look on eBay for a used remote. I found one for $10 a while ago when I needed a remote for a used Apple TV that I bought that didn't come with one.
That's not a bad price to pay, so if you lost your remote and would rather just have another one instead of using a keyboard or even your iPhone as the remote, buying a new Apple TV remote is a good route to take.
Of course, you can also use a universal remote to control your Apple TV, and if you have a large entertainment center with a bunch of different remotes, it might be a good idea to get one anyway.

This article may contain affiliate links. Click here for more details.