What to Expect at WWDC 2012
With Apple's annual World Wide Developers Conference (WWDC) set to kick off in just a few days, we wanted to take a look at what Apple may or may not be announcing at WWDC 2012.
Last year's WWDC was vastly different from the conferences in the past as Apple shifted from the event from the hardware side of its products to the software that powers them.
This year, we expect it will be no different. While there might indeed be some hardware mixed into the show, we expect WWDC 2012 to revolve around software, namely, iOS 6.
Apple has yet to confirm any products for the show but as is usually the case in the build up to an important Apple event, there are quite a few rumors – some more credible than others – that are swirling around in the air.
That being said, here's a look at what you should (and shouldn't expect) from next week's WWDC in San Francisco.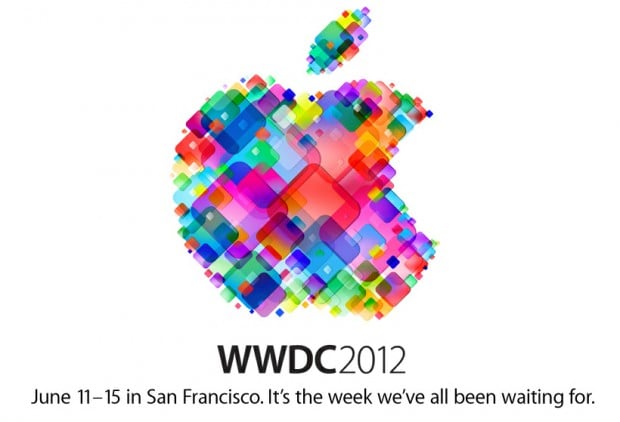 Lots of Stats
With the iPad 3 announcement, Tim Cook carried on the long-standing tradition of reporting Apple's sales figures to kick off the show. We expect Cook's WWDC 2012 keynote, his first as Apple CEO, to be no different.
Last quarter, Apple put up some truly staggering figures and we fully expect Apple to go into more detail during the conference.
In Q2 alone, the company sold 35 million iPhones and nearly 12 million iPads. The iPad sales alone represented a 151 percent increase in iPad sales over the same quarter in 2011.
A lot of that likely had to do with the introduction of the new third-generation iPad that Apple announced and released in March of this year.
In its first three days, the company sold three million new iPads. That's two million more than the one million Motorola Xoom tablets that sold over the course of 2011.
So, expect Apple to tout the iPad 3 and its sales figures against the competition. Apple will also likely talk up the iPhone 4S, which launched in October 2011, and has sold extremely well in the months after its launch.
Apple will likely go into the specific sales figures but it will likely also dive into how the iPhone 4S is now available on an assortment of regional U.S. carriers and is headed to pre-paid carriers Cricket and Virgin Mobile in the future.
The company needs to keep the iPhone 4S fresh in the public's mind especially because a new iPhone is still likely months away from release and its competitors have launched new flagship phones like the HTC EVO 4G LTE, HTC One X and Samsung Galaxy S III.
iOS 6
The big announcement at WWDC 2012 figures to be iOS 6, Apple's newest mobile operating system. The software will follow in the footsteps of iOS 5 which was introduced at WWDC 2011 and released later in the year with the iPhone 4S.
While Apple hasn't revealed anything about the software as of yet, there have been many links that point to the update being extremely robust and including several features that users have wanted for quite some time.
Here is what we expect to see from iOS 6 on Monday
Facebook integration with iOS has been rumored for awhile now and it looks as though Facebook and Apple might finally bring it to iPhone and iPad users with iOS 6.
TechCrunch's MG Siegler says that the two companies are planning Facebook integration into iOS 6, however, it's still unclear just how the social network will fit into the software.
We imagine that it will arrive in similar fashion to how Twitter was integrated into iOS 5 last year with options for sharing built into iOS 6.
Of course, Siegler was quick to point out that this wasn't a done deal and thatwhile it might eventually show up in the software, Apple might not unveil it at WWDC.
In any event, this seems to be the closest we've been to Facebook getting baked into iOS. The report came shortly after Tim Cook spoke of Facebook integration with the iPhone and iPad during his talk at the All Things D conference. Cook praised Facebook and hinted at deeper Facebook integration.
Maps
Like Facebook integration, Apple has long been rumored to be working on a native Maps application that the company will use to replace Google Maps which is the default Maps application in iOS.
It appears that Apple will be introducing its own map solution with iOS 6. Apple's new Maps app has likely been built using technology it acquired through its purchases of Placebase, C3 Technologies, and Poly9.
Here are some of the features that might come along with Apple's new Maps application.
New detailed 3D view.
Redesigned UI that leaves more screen space for the maps.
A new look for street view.
Additionally, Apple is rumored to be including turn-by-turn directions, a feature that iOS users have been clamoring for.
The Wall Street Journal is reporting that Google intentionally withheld Google Maps with Navigation, its turn-by-turn solution, from iOS and instead reserved it for Google Maps on Android.
That apparently prompted Apple to work out its own solution and Apple's map application is said to include voice guided turn-by-turn driving instructions with intelligent and deep iOS integration.
So, if you have a specific destination programmed into your calendar, the Maps app could then warn you if there is a traffic jam along the way before the start of the trip.
As of now, iOS users have had to use third-party services like Waze, TeleNav and Navigon. However, it seems that the days of using third-party apps for turn-by-turn directions could be over with iOS 6.
Siri for iPad
The iPhone 4S now is in possession of a unique feature found within iOS 5. That feature is, of course, the virtual personal assistant called Siri.
Apple will apparently be bringing the full-fledged Siri assistant to the iPad with iOS 6. So that means that iPad owners would get all the key Siri features that iPhone 4S users currently enjoy.
Those include:
Ability to ask for directions
Calendar management
Wolfram Alpha search capabilities
Ability to email
You can see Siri's many features in the video below.
The input for Siri will apparently remain the same. iPhone 4S users currently use a long press of the home button to bring up Siri and it looks like iPad owners will be able to do the same.
However, instead of taking up the entire screen, Siri will instead only take up a portion of the screen on the iPad.
It could look something like the mockup below.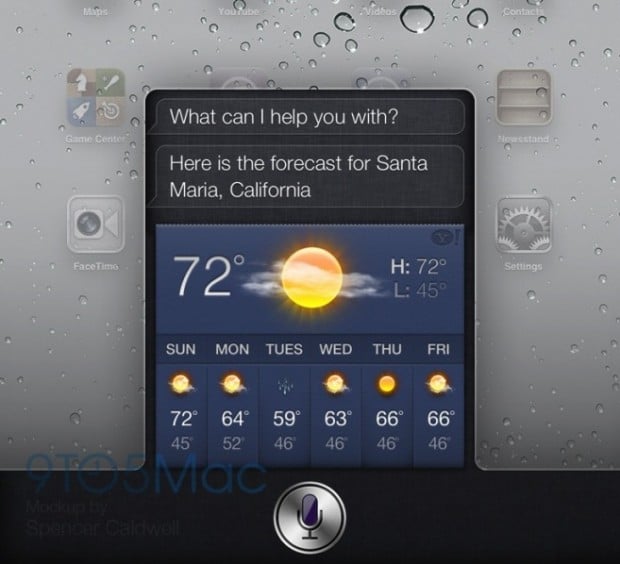 Like Facebook integration, it's unclear whether Apple will announce this as a feature at WWDC. Also unknown is whether it will work on the original iPad and the iPad 2. It's all but certain to run on the new iPad. Apple is said to have tested the service on the iPad 2 but it's possible that it may never move beyond the testing phase.
Currently, the only trace of Siri that is found on the iPad is in its Siri Voice Dictation solution that translates voice-to-text. Fortunately for iPad owners, it looks like Apple might be changing that with iOS 6.
Much More…
The aforementioned features are the three big name ones that Apple might include with iOS 6. Apple though, in the past, has included hundreds of new features in its new software and iOS 6 is rumored to have plenty more coming along with it.
9to5Mac says that iOS 6 will include:
Do Not Disturb: Apple is rumored to be including a Do Not Disturb toggle that will allow iOS users to quickly silence notifications, alerts, and sounds on the device.
VIP Mail: Another feature said to be in iOS is VIP Mail which would allow users to select important contacts to an effort to better organize email.
iCloud Tab: An iCloud tab in Safari would help users manage their opened Safari tabs on different devices and platforms.
In addition, BGR reports a number of changes within iOS 6 including:
UI Changes: Apple will apparently go from blue and blue to silver, like the iPad.
Automatic App Updates: Self-explanatory. A device would be able to automatically pull app updates. It's unclear if the iPhone or iPad would have to be plugged in or connected to Wi-Fi.
Widgets in Notification Center/Live App Icons: Apple has long been rumored to be bringing Widgets, a popular feature in Android, to iOS. If it doesn't, it may just opt for Live App Icons. An example, the current Calendar application that changes the date without provocation.
Improved Multi-tasking.
New Multi-touch gestures.
More Siri features.
We don't expect Apple to announce every single iOS feature at WWDC but it seems that it will at least announce some of these at the keynote on Monday.
We expect Maps and Siri to be the biggest pieces of the announcement.
OS X Mountain Lion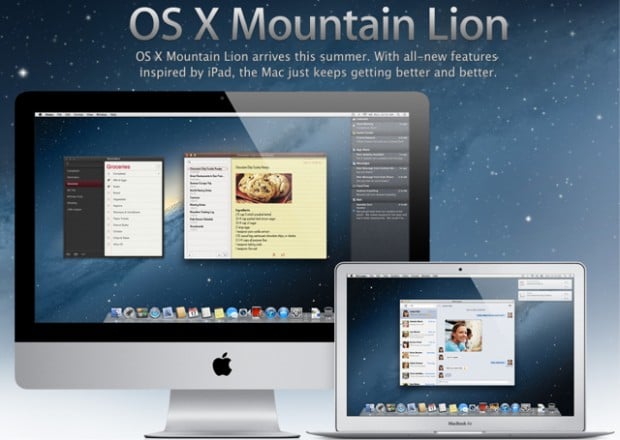 We fully expect to see Apple show off a finished version of its latest OS X software, OS X 10.8 Mountain Lion. OS X Mountain Lion will succeed the current version of OS X software called OS X 10.7 Lion.
In February, Apple gave developers a preview of what it was working on with its next-generation desktop-class operating system and in doing so, revealed many of the OS' features.
Apple has said that the operating system has been inspired by the iPad and it will be integrating many of Apple's best features from iOS into OS X.
Among the features that will be coming with OS X Mountain Lion include pop-up notifications, iMessage support, Game Center, AirPlay mirroring with Apple TV integration, and Notification Center support.
It's unclear when Apple will release OS X Mountain Lion but we imagine it won't be too long after WWDC.
New Macs?
While the focus of WWDC 2012 will likely be on Apple's brand new software, we expect the company to announce new Mac products.
Apple is reportedly gearing up to launch an assortment of updated Mac products including an update to the Mac Pro, Retina Display MacBook Pros that an analyst predicted would be coming out this summer, new MacBook Airs and new iMacs.
The new MacBook Pros will apparently feature Intel's latest Ivy Bridge CPUs, USB 3.0, and slimmer designs in addition to the Retina Display.
Retina Displays will supposedly hit the MacBook Pro line first and then gradually make it to the MacBook Air and iMac.
Apple is also rumored to be announcing a 15-inch MacBook Air.
Apple HDTV Perhaps?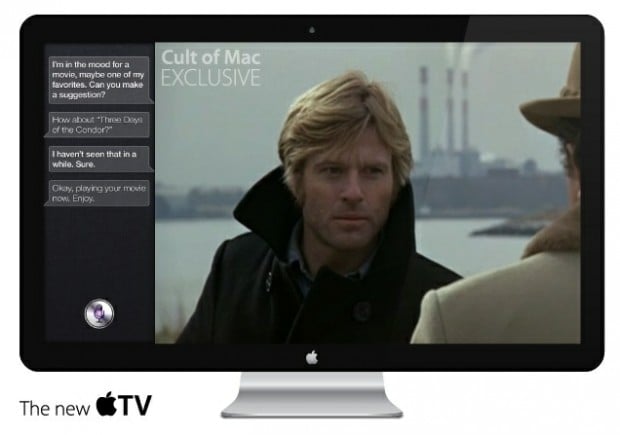 Rumors of an Apple HDTV have swirled around for a while and while Apple might be working on such a device, we don't expect to see it announced at WWDC 2012.
The rumors picked up after CultofMac reported that a source had seen an Apple HDTV which included both Siri and FaceTime.
Read: Two Things an Apple HDTV Needs.
Shortly after, in May, Foxconn Technology Group founder and chief executive Terry Gou apparently told China Daily that the company, which makes the iPhone and iPad, would soon begin manufacturing the Apple HDTV.
Production, however had not begun.
Foxconn has since retracted that quote but even if it were true, the fact that it hasn't yet entered production means that its release is pretty far off.
Apple TV Apps
We may end up seeing something pertaining to Apple's current "TV" though, Apple TV that is.
While acknowledging that Apple wasn't interesting in entering the home console gaming business, Apple CEO Tim Cook did not deny the possibility of apps making their way to Apple TV in the future and said that Apple is a big player in the gaming market.
The iOS App Store has a wide selection of games for the iPhone and the iPad and many of those games are the top grossing apps within the App Store.
That being said, it's possible that we'll finally see applications arrive for the AppleTV at WWDC 2012.
Don't Expect the iPhone 5
Apple's iPhone 5 has been in the news lately and there are still some people out there that think that Apple could surprise consumers by announcing the next iPhone at this year's WWDC.
Let's be clear. That won't happen. And here's why.
Almost every report out there pegs fall as the release date.
Apple has yet to release the iOS  6 beta.
iPhone 4S is still selling well.
Sprint and C-Spire, both of which carry the iPhone 4S, are still building out their 4G LTE networks. The iPhone 5 is widely believed to have 4G LTE capabilities on board.
Apple isn't believed to have finalized the iPhone 5 design.
Apple is also a company that likes to stick to cycles. It hasn't released a new iPhone within a year of a previous iPhone launch and with the iPhone 4S having launched in October and arriving on new carriers like Virgin Mobile this summer, we don't see Apple changing its launch method.
How to Watch WWDC 2012
WWDC 2012 kicks off Monday, June 11th and it will last through June 15th. Tickets for the event sold out extremely fast leaving many who wanted to attend out in the cold.
Sadly, Apple generally doesn't live stream its events and we don't it to stream WWDC 2012.
So, what this means is that to watch the WWDC 2012 keynote on Monday, you'll probably have to watch it through a live blog. If Apple has a change of heart, we'll be sure to let you know how to watch the event.
We will have full coverage of the event on Monday morning so be sure to check back in to Gotta Be Mobile then.

As an Amazon Associate I earn from qualifying purchases.