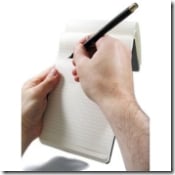 As you might imagine, we get a lot of questions about what tablet pc or ultra mobile pc we would recommend purchasing, along with different accessories. Obviously, the answer is different given your needs and how you work. For example, some tablets operate better under flourescent lighting than others, others have pc card support, etc. Some people need built-in cd rom, others don't need it. Some folks absolutely have to have a keyboard, others don't need it for how they will be using a tablet pc.
Give all of that, it is easy to understand why it is next to impossible to make blanket recommendations on what to buy. In addition, depending on when announcements are made and how long a particular unit has been on the market, recommendations can change from month to month. However, given a general work scenario and needs, folks on the GBM Forums, and those of us at GottaBeMobile.com, can normally steer folks in a good general direction.
All of that said, I thought it might be helpful to break some things down on what I would buy at this particular moment, especially if you are considering gifts for that special mobile person in your life. Please keep in mind that we are all expecting a number of announcements in regards to Tablet PCs, Ultra-Mobile PCs, and accessories around the CES time frame. So, what I recommend right now is likely to change in a couple of weeks, and these are all based upon my personal preference anyway. Your needs should override any recommendation I make. In addition to the standard Tablet PC / UMPC fare, I thought I'd throw in a few other things that tickle my fancy.
BTW: Click here for a special Merry Christmas from me!

As an Amazon Associate I earn from qualifying purchases.