What You Need to Know About the HTC Vive
The HTC Vive is one of two major virtual reality (VR) headsets to be launching this year, but should you order it? Should you pre-order it? Here's what you need to know about the HTC Vive to make an informed decision.
If you haven't been paying attention, you might have missed it – virtual reality is back, and it's back in a very big way. If you remember trying it much earlier than the past year, you're in for a surprise; modern virtual reality is much better, much more personal, and easier to get than ever before.
What is the HTC Vive? Developed in partnership with the software company Valve, the Vive is one of three major virtual reality headsets projected to launch in 2016 (the other two being the Facebook-owned Oculus Rift and Sony's PlayStation VR).
How much does the HTC Vive cost?
If you want to get a Vive VR headset, be prepared to shell out the cash. Although it's not yet available, HTC just started taking pre-orders yesterday. If you're in the U.S., you can expect to spend $800 for the Vive, with various fees for tax and shipping depending on where you live. Other countries can expect some kind of premium on top of the currency exchange.
This is in stark contrast to the pricing of other VR products on the market; the nearest competitor to the Vive is the Oculus Rift, which doesn't come with as much equipment straight out of the box. Meanwhile, the cheapest "serious" VR offering, the Samsung Gear VR, is free to anyone who pre-orders a Galaxy S7. This isn't presented as a criticism of the Vive, just to anchor the following: despite costing over $200 more than the competition, HTC managed to secure 15,000 Vive pre-orders in the first ten minutes of the sale. It's safe to say that people are interested.
What does the HTC Vive come with?
For your $800, you'll get a kit which includes everything you need to experience cutting-edge VR, save of course the PC you'll need to power it. That means the Vive headset (also known as a head-mounted display, or HMD), two of HTC's motion-sensitive controllers, and two of the base units that enable the Vive's distinctive "roomscale" functionality. You'll also get all of the (long) cables you need to hook it up to your PC.
Those motion controllers are a major win for the Vive over the Rift, which won't be shipping its own proprietary VR controllers until sometime later this year (maybe). At the start, the Rift will only ship with a wireless Xbox One controller, provided via a partnership with Microsoft. So far, reviews of the Vive's controllers have been nothing but positive; it's not yet known whether they'll prove to be integral to the VR experience, or if the Rift, by virtue of being cheaper (since it ships without controllers), prevents developers from really taking advantage of the concept (similar to what happened with the Xbox One and Kinect).
As we mentioned in the pre-order news, if you pre-order the Vive, you'll also get three free games: Fantastic Contraption, Job Simulator, and Tilt Brush.
What are the HTC Vive specifications?
You're probably tired of hearing about the Oculus Rift in an article that purports to be discussing HTC's Vive, but the two headsets are so similar that it's generally impossible to talk about one without talking about the other. Like the Rift, the Vive features a combined resolution of 2160 x 1200, delivered in two separate, 1080 x 1200 resolution OLED screens (screens more like the one found on a Samsung Galaxy smartphone, not an iPhone). Each display is 90Hz, which means it can display 90 discrete frames per second – one and a half times faster than the average LCD.
Outside of virtual reality, one bonus aspect to having this two-screen setup is that 3D movies should actually work extremely well on the Vive. This is because each eye gets a fully separate and different image, instead of one feed that's split into two sets of images with a tricked-out set of sunglasses.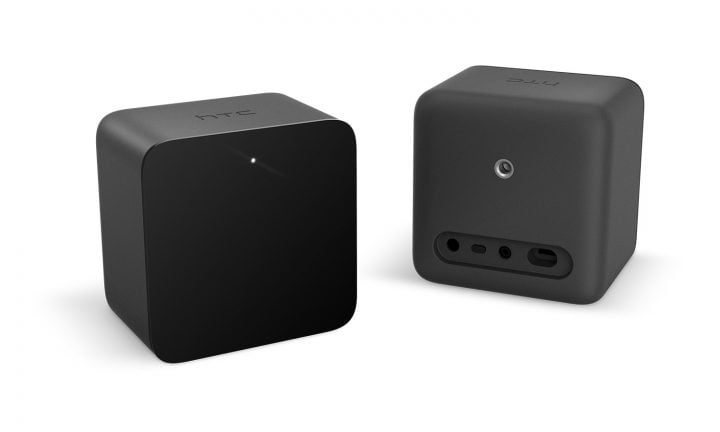 On the front of the Vive is a front-facing camera along with 32 headset sensors. These combine to provide both situational awareness as well as positional tracking, provided in conjunction with the base stations set up in the corners of your room. The camera lets you rapidly check on the real world without removing the headset, as well as bring parts of your environment into the game itself.
Meanwhile, the enhanced position tracking helps enable the Vive's tentpole feature, "Roomscale" virtual reality. Roomscale is rapidly becoming the go-to term for any VR experience that requires you to do more than stay seated and turn your head. A typical Roomscale-enabled game might, for example, need you to get up and walk around an obstacle or look behind a tree for clues. This is something that the Oculus Rift might offer in the future, though it will require the purchase of additional hardware.
The headset will also be customizable to fit a broad range of faces, with removable inserts and nose pads; since you might be spending up to several hours at a time wearing the headset, it's important that you can ensure a good fit. One thing that the Vive won't be coming with, however, is any kind of audio solution. This is another point of divergence between HTC and Oculus; the Rift has built-in headphones, while the Vive will need to use an external set of headphones (HTC will probably be providing ear buds, at least, in the box). While this means you can use superior headphones, it's objectively less convenient.
Each motion controller has its own vibration motor as well as the same tracking sensors as the headset to keep track of its position in 3D space. Speaking of which, those sensors work by keeping relative track of the invisible lasers each base station broadcasts.
Will my PC work with the HTC Vive? What are the recommended specifications?
First of all, you're going to need a desktop – or at least a desktop graphics card – to use the HTC Vive. It needs to be a beefy desktop, too – remember, you need to be able to drive games at a resolution of 2160 x 1200, at 90 frames per second. Unlike playing games on a regular monitor, lowering the resolution or (especially the) frame rate can be disastrous for many VR users, generating substantial nausea.
While Oculus is less friendly to the AMD-equipped side, HTC allows some higher-end AMD CPUs to satisfy its recommended specifications list. Specifically, you'll need an Intel i5-4590 or AMD FX 8350 or better, and either an NVIDIA GeForce GTX 970 or AMD Radeon R9 290 or superior – they may not be brand new, but these graphics cards still demand a substantial premium in the market.
You'll also need at least one free USB 2.0 port – this is a notable exception to the Oculus Rift, which explicitly demands a USB 3.0 port. You can actually download a tool in Steam to see if your computer can run the Vive.
When will the HTC Vive be shipping?
We mentioned it earlier, but HTC only launched the pre-order page yesterday. The company originally listed a ship date of April, but new pre-orders won't ship until at least May; the shipping date may slip further, depending on how many people ultimately decide to place a pre-order. If being among the first to snag one of the Vives is important to you, it might be worthwhile to go ahead and order now – if you use a credit card instead of PayPal, the card won't be charged until your headset ships.
It's possible that HTC will reserve some Vives to bundle with partner systems from the likes of Dell or HP, like Oculus is planning; if you're looking for an all-in-one solution, that might be an easy way to get one of the first Vives.