What's in My CES Gear Bag: Craig Lloyd
Last year was my first CES, and frankly, I brought pretty much anything and everything with me because I wasn't sure what to expect, but now that I've seen the belly of the beast, I've fine-tuned and optimized my gear bag and only brought stuff that I would absolutely use, instead of just a bunch of trivial stuff that I may or may not use throughout the week.
With that said, my setup this year is severely dumbed down — I didn't even bring a dedicated camera with me, which may be surprising since a good portion of CES coverage involves photos and videos, but I was pleasantly surprised overall with the results of my setup this year.
13-inch MacBook Pro (Late-2013 Retina)
This is my main workhorse for writing and editing photos and videos at CES. It's also my only computer, so I'm pretty much screwed if something bad should happen to it, but it's been chugging along nicely since I bought it a couple months ago, and seeing how Ron Swanson is gracing the lid of my MacBook, this beast can conquer just about anything.
Plus, it has enough power and battery life (thanks to the new Intel Haswell chips) that it does surprisingly well for a laptop, and it's so incredibly light that it's the closest you can get to a MacBook Air without actually going there (and still retaining the performance for power users).
Logitech Marathon Mouse M705
I love the MacBook's trackpad, but there are just some tasks where a mouse is 10x better — namely at editing photos and videos in Photoshop and iMovie.
I'm just really not all that great at multi-finger trackpad use (which is needed in Photoshop and iMovie for a lot of tasks), so a mouse comes in handy. Logitech's Marathon Mouse M705 is hefty, yet portable enough that I can throw it in my bag without it being a big deal, and you can't beat the super-small USB wireless receiver.
iPhone 5s
I use an iPhone 5s as my main smartphone, so it has all the apps that I need to get me through the week, including various apps to communicate with the rest of the Gotta Be Mobile team, as well my RSS feeds to keep up with the slew of news and press releases that make their way to Vegas during the week.
Believe it or not, I also use my iPhone 5s to take photos and videos. Most of the time, you'll see folks carrying around a DSLR for their imaging needs, but seeing as how I don't even have one to begin with, I can't quite go that route. Granted, I do have a decent Canon point-and-shoot camera, but I've discovered the iPhone 5s takes just as good of photos, so there was really no need to bring it along with me. Plus, taking photos with my iPhone allowed me to instantly upload them to our photo hosting service without dealing with pesky SD cards.
Granted, I did miss having optical zoom functionality at times, and my point-and-shoot has a slightly-better focus and takes better low-light photos, but the difference was negligible most of the time.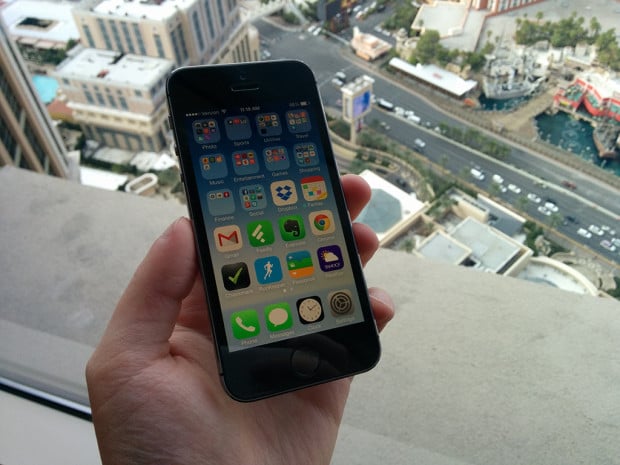 Olloclip iPhone 4-in-1 lens kit
Along with taking photos with my iPhone 5s, I also brought along the new Olloclip 4-in-1 lens kit, which includes a wide-angle lens, fisheye lens and two macro lens that are set at different magnifications.
The wide-angle lens has been the most-used lens for me, as it lets me capture a lot of scenery in one shot, and if you know anything about Las Vegas, it's that there's a lot of stuff around to say the least.
Overall, though, the Olloclip allows me to take some slightly-better photos with my iPhone 5s that I wouldn't be able to capture otherwise, and the fisheye lens lets me capture some pretty cool dramatic shots (like the one feature toward the top of this post).
Nexus 5
My secondary smartphone is my Nexus 5, which I mainly use as my media device (streaming video, listening to music, and tethering internet) since my iPhone 5s doesn't have unlimited data. WiFi usually isn't that great in the convention center, so tethering internet to my laptop from my Nexus 5 was essential to have.
Plus, the Nexus 5's large display is great for movies and TV shows on the go, because a 4-hour flight doesn't really go by as quickly as you might think.
EasyAcc 12,000mAh Power Bank USB battery pack
If there's one thing that you should know about CES, it's that outlets are like unicorns — it's hard to find one, and most of the time, you're on the go so much that you don't really have time to stop at an outlet for a half-hour to charge your devices in the first place.
Instead, an external battery pack is a must. I went with a 12,000mAh EasyAcc battery pack that has four USB ports at different amperages, including a 2.1A port for charging tablets. It'll charge my iPhone about six times over, which is a bit overkill, but once I throw more devices into the mix, it becomes a bit more realistic.
Accell travel surge protector
Speaking of outlets, if you do ever find one, it's an unwritten rule that you shouldn't claim it all to yourself — you would be deemed a jerk for life.
Instead, plug in a travel surge protector that comes with two extra outlets and a couple of USB ports, that way others can plug their gear in and charge up as well. The Accell travel surge protector is the best one I've used, mostly because the power plug can fold into the surge protector for easily stashing it in your bag.
ScotteVest Travel Vest
This was my first time wearing ScotteVest gear at CES, and if there's one thing that I love, it's a lot of pockets. The ScotteVest Travel Vest includes a mind-boggling 24 pockets, including pockets dedicated for a tablet. In other words, there's a pocket for pretty much everything, completely eliminating the need for a back-breaking backpack most of the time.
Sunglasses
I have sensitive eyes, and Las Vegas can get pretty sunny. If I ever go outside, I can't do it without sunglasses, or else I get really grumpy.
Chapstick
I also get really grumpy if I forget my chapstick when I go out, which has happened plenty of times, but in a dry place like Vegas, my lips turn into a cracked nightmare, so it's extremely important that I take it with me wherever I go.
Hand Lotion
Your skin can get really dry in the desert, but believe it or not, it's usually just my hands that become extremely dry, and since I like to make a good first impression when I go to shake hands with company big wigs, I want my hands to be in tip-top shape.
Hand Sanitizer
Speaking of shaking hands, the CES flu is a real thing. With the flu season in full swing and hundreds of thousands of people rendezvousing into one location, something's bound to get spread around. Plus, it's almost impossible to go a whole week of CES without shaking hands with people, so hand sanitizer at least provides some sort of preventive measure against a cold — at least until you can get to a bathroom and thoroughly wash your hands.
Ibuprofen
The smell of Las Vegas can get to your head, literally. The stale cigarette smoke in the casinos mixed with generally-long work days and staring at a computer screen the whole time can be an invitation for headaches, so I bring a canister of ibuprofen with me to calm down the pain demons in my head.

As an Amazon Associate I earn from qualifying purchases.