Where & How to Buy a Cheap Xbox 360
Microsoft's Xbox One console understandably gets all the attention these days. It's the latest console to come from the console maker. Seamless updating, video recording and better looking games mean that the Xbox 360 doesn't get as much attention from gamers as it once did.
That does seem to be changing though. Earlier this year Microsoft announced a new Xbox 360 Preview Program that allows users to test features before they head out to the general public. Last week the company rolled out the first significant update the Xbox 360 has seen in a year, bringing purchase browsing to the console and adding support for hard drives with 2TB of storage.
New games that do launch on the console loose their value faster than their counterparts on the Xbox One. There are thousands of cheap games, and dozens of entertainment apps still not available on the Xbox One . Here's where and how to buy a cheap Xbox 360 for your family because there's never been a better time to own Microsoft's last generation console.
$179.99 New – Microsoft Store
At the top of your list of places to check for a cheap Xbox 360 is the Microsoft Store, Microsoft's own retail website and stores across the country. The Xbox 360 hasn't seen a significant price drop in years. Right now the three console bundles that Microsoft sells starts at $149.99. That $149 Xbox 360 4GB console comes with a wireless controller, a month of Xbox Live Gold, a wireless controller and an Xbox 360E console with 4GB of storage and a regular price tag of $179.99.
$249.99 Used – Microsoft Store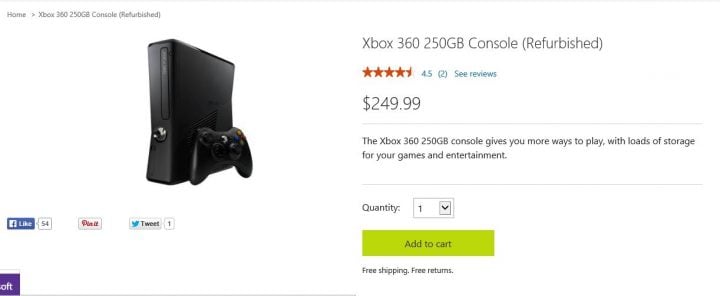 Microsoft Stores don't resell used game consoles in the way GameStop does. Microsoft does do a lot of warranty work on Xbox 360 consoles though, and that's why it also offers refurbished consoles on its website. Right now the company is offering refurbished Xbox 360s with 250GB of storage for $249.99. It's by far, not the most attractive deal, but you're getting a refurbished console directly from the company that makes it along with a 90 day warranty, which isn't bad at all.
$159.99 Used – GameStop
The Xbox 360 came in three separately flavors. First there was the original white Xbox 360. Two more followed, with wireless internet access and Bluetooth technology. It's that first Xbox 360 that's fallen in price drastically and is your perfect opportunity to get a cheap Xbox 360.
GameStop has what could easily be described is the best cheap Xbox 360 deal you'll see all year. A new Xbox 360 S 250GB Blast from the Past System Bundle costs just $159.99 and includes everything users need to get started.
Besides the Xbox 360s — the model with wireless internet support, included is 250GB of storage and disc copies of Halo CE Anniversary, Call of Duty: World at War, Fallout 3, The Elder Scrolls V: Skyrim and Grand Theft Auto IV. To be clear, the console is used. It's still a terrific deal though. All promotional bundles at GameStop are temporary, so it's best to move on this before it's too late.
$79.99 Used – GameStop
GameStop isn't dropping just one ridiculously cheap Xbox 360 deal on users. During the month of May there's another cheap Xbox 360 deal at the retailer aimed specifically at casual gamers. Until June 1st, GameStop is offering the original Xbox 360 console without an internal hard drive or any extras for just $79.99. If you're a serious gamer, you'll need to purchase a decent flash drive with enough storage to download your apps and games. This cheap Xbox 360 console is perfect for those users who don't need a lot of extra storage and are looking for a decent entertainment experience. Again, the Xbox 360 offers way more entertainment apps than the Xbox 360 does.
$224.98 Used – GameStop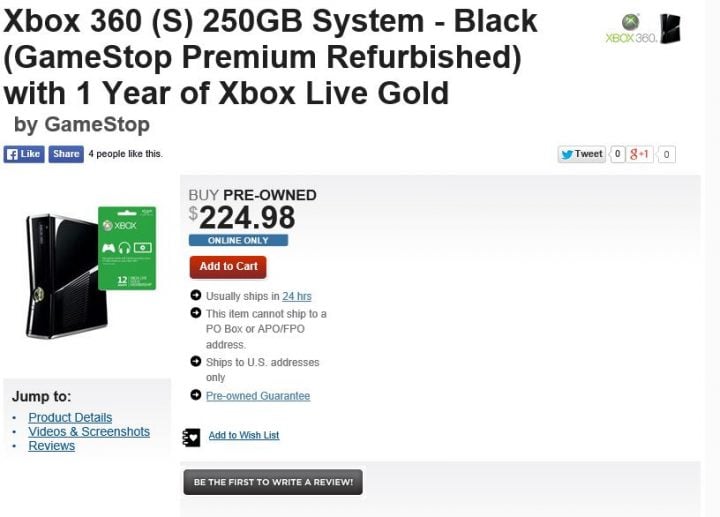 No matter what Xbox console you buy, you'll need a subscription to Microsoft's Xbox Live Gold service to play your games online. Normally, a year-long subscription to Xbox Live would cost $60, but that's not the case with the Xbox 360S 250GB Premium Bundle at GameStop.
The Xbox 360S is one of the versions of the console that comes with built-in Bluetooth and wireless. Besides the console itself, users get a wireless controller and a year of Xbox Live Gold for $224.98.
Craigslist & Ebay
Really, it's a better idea to buy from GameStop, the Microsoft Store or any other retailer that offers used game consoles. These consoles come with warranties and return policies in case you get the console home and its broken or in need of repair. If you're not worried about either of those things there's always Craigslist and Ebay.
Used cheap Xbox 360s of all makes and models are available on both websites. They generally start at $100 for the original Xbox 360, but include some games and extras that their current owners are looking to offload. If you're going to use these sites to find a cheap Xbox 360, be cautious and mindful of what you're getting. Look through pictures of the console to make sure it hasn't been modded or tampered with, remember to ask about any essential accessories that you don't notice in pictures, like a wireless controller and power cable.
Good look finding a cheap Xbox 360.