Where is the Medion UMPC?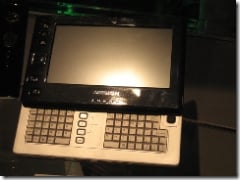 The big story around the Origami booth is the Medion UMPC – The Medion folks are here, but they are having trouble locating their UMPC that should have been here, too. Good thing is that when it shows up, their booth area will be crowded. A lot of folks are looking to get their hands on it. Wonder who has it? Bill Gates, Steve Ballmer, Dennis Rice? Never can tell with Dennis…
The word is that the Medion will be on hand later this afternoon or tomorrow. The best we have at this point is a prototype unit enclosed in glass. Looks great – can't wait to put my hands on a working unit, though.

As an Amazon Associate I earn from qualifying purchases.