Where to Buy an iPhone 4S on Launch Day
If you didn't already order an iPhone 4S to be delivered on October 14, you will have to brave the lines in order to get one on launch day. Where you can go and get one? And what's the best strategy for walking away with one in your hand next Friday?
Apple Store
The obvious choice for buying the iPhone 4S on launch day is direct from Apple. Get in line early, since the large number of preorders and past history makes it look like the lines will be long. Apple really could handle this better, but I think they like the long lines. News media adds to the Apple mystique by showing buyers waiting for hours, sometimes days, outside stores to get an iPhone.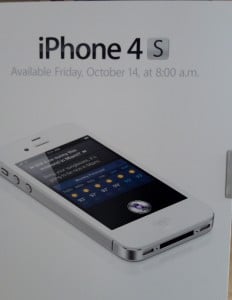 This time Apple Stores will be open on Friday at 8:00 AM. This is a bit of a departure from past years when they opened at normal hours or sometimes made buyers wait till later in the day, as in the case of the iPad 2 launch this spring.
The earlier time could do one of two things. It could thin lines if fewer people are willing to get up that early. However, it's entirely possible that more people will get in line coming from 3rd shift jobs or before classes at school.
If you plan to get in line, our veteran iPhone line waiters offer the following suggestions:
Buddy System – pair up with a friend so you can save each other's place in line while you go for a bathroom break or snacks
Launch Chair – bring one so you don't have to stand the whole morning
Entertainment – bring something to do like a book, your tablet, or smartphone and be ready with a full battery
Bring the things listed here
If you don't buy from an Apple Store, be sure to call ahead. Best Buy, Radio Shack and wireless carrier stores will all be selling the iPhone 4S, but you might be out of luck if you don't plan ahead.
Sam's Club
Surprisingly, the best option for an iPhone 4S if you can't get in line at Apple could be Sam's Club. They began taking pre-orders at the club today at 10:00 AM. They will keep your iPhone on hand for your on Friday on a first come first served basis. The store has a complete FAQ page setup to help you learn what you need to know.

Best Buy
I've had good and bad experiences buying popular Apple products at Best Buy. If you don't live close to an Apple Store, this might be a good choice if you go now and pre-order an iPhone 4S. You will have to place a reservation for one. If you do not get one on the 14th, you might be able to get it soon after when they get their next shipment from Apple. They will handle them on a first come first served basis.
Wireless Carrier Stores
You can also line up outside your wireless carrier's store and possibly get one. I would not recommend this option. I asked the manager of a local corporate owned AT&T store and he had no idea how many iPhones they would receive on launch day. He told me that last year they only received 20 iPhone 4s while over 50 people were in line. That's in a small town, but if things happen the same way this year, you might be out of luck unless you get in line early. I was one of those people out of luck last year when the iPhone 4 launched. I arrived two hours before the store opened.
Before you line up outside the store be sure they are an official AT&T, Verizon or Sprint store. I contacted a Verizon retailer, which is a franchise owned by a third-party, and he said you can order an iPhone 4S on the 14th but it won't come till the 21st.
Radio Shack
Radio Shack stores may not get a lot of stock, but if you do get lucky enough to actually get an iPhone 4S from them you could save a significant amount of money by trading in an old iPhone. They will give credit for trade-ins that could get you a free or steeply discounted iPhone 4S if your old iPhone 4 is in good shape.
Like the wireless carriers, many Radio Shack stores are owned by local franchisees. The one in my town said because of this they won't be getting any phones on launch day. Check with your store to be sure.

As an Amazon Associate I earn from qualifying purchases.