Where to Buy Lightning Cables for Your iPhone 6
If the iPhone 6 is your very first iPhone, or you're upgrading from an older iPhone to the iPhone 6, you'll no doubt need some extra Lightning cables to have placed around your home, work, and in the car. Luckily, there are ways that you can stock up on Lightning cables without having to fork out a lot of cash.
The iPhone 6 only comes with one Lightning cable, but it would be nice to at least keep one in your car and at the office without having to tote around your only cable. This is where buying a few more Lightning cables can pay off in the long run.
Apple charges $19 for a regular three-foot long USB Lightning cable, so if you bought three extra cables — one for your car, your travel bag and your office at work — that's $57 right there. So, you might be looking into alternatives.
Luckily, there are several places where you can find cheaper Lightning cables, and not just knock-off versions either. We're talking about genuine Made For iPhone Lightning cables that you can purchase for less than what Apple sells them for in the Apple Store. Here are some options that you should consider before going directly to Apple.
AmazonBasics
Amazon sells its own iPhone Lightning cables under its "AmazonBasics" brand for $13 each; that's still not cheap by any means, but it beats paying $20.
AmazonBasics is essentially Amazon's in-house brand for a variety of accessories. We even rounded up some of the best iPhone accessories that you can buy from AmazonBasics, including a wall charger, car charger, audio cables, cases, screen protectors, and even car mounts.
The only problem with the Amazon-branded Lightning cable is that the plastic around the connector is a bit chunkier than Apple's version, which means that if you have a case on your iPhone 6, the Amazon cable might not fit. Thus, you may be forced to go caseless or go searching for other Lightning cable options, or find an iPhone 6 case with a larger opening in the Lightning connector.
MonoPrice
If you're looking for an even cheaper iPhone Lightning cable, perhaps MonoPrice might be the place to go. They sell Lightning cables for $12, making it the best deal around as far as genuine Lightning cables are concerned.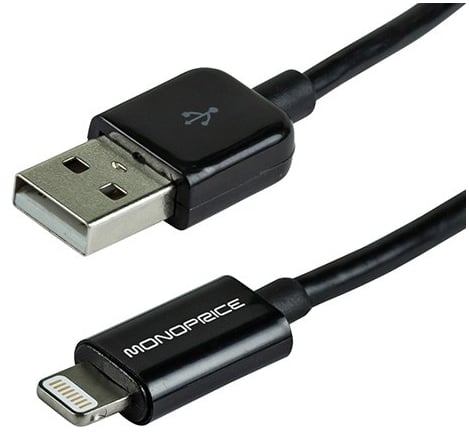 If you're not familiar with MonoPrice, you should be. They produce generic "knock-off" products like cables, headphones, speakers, and even computer displays, but the quality is much better than what you would get with other generic brands from China, which is why we put quotation marks around "knock-off," because it essentially isn't knock-off since MonoPrice is becoming a huge brand.
While MonoPrice is essentially a "knock-off" manufacturer, though, the company actually produces some solid products, and its iPhone Lightning cables are no exception.
eBay
eBay is a risky place to look for genuine iPhone Lightning cables, but if you're careful, you can find some great deals. However, even when the listing says "genuine" or "Made For iPhone," you still need to be cautious.
I recently went hunting on eBay in the hopes of finding someone getting rid of their Lightning cables because they switched to Android. I was aware that eBay was full of Chinese knock-offs that claimed to be genuine Lightning cables, but I found a listing that was selling "genuine" cables for around $11 a piece and was located inside the US. They were probably still fakes, but I pulled the trigger anyway, with the plan that I would file a complaint and get a refund if they were, indeed, fakes.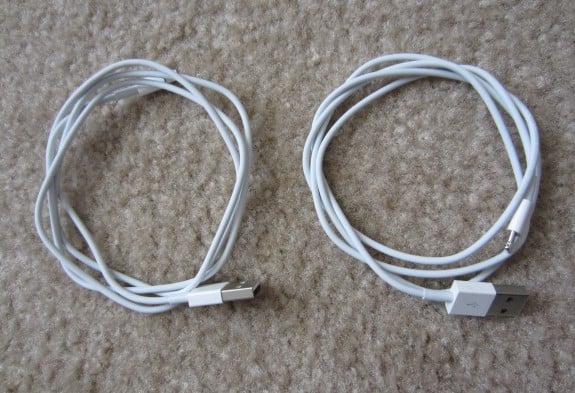 Unsurprisingly, they were fakes. However, I filed a complaint and got my money back. You may end up going through a similar process, but I've found that if you find a seller who isn't a "Power Seller" (a large company that sells a lot of stuff on eBay), then you'll most likely be okay. In other words, if you can find an eBay seller who's just a regular person like you, looking to get rid of their Lightning cables, this is where you'll usually be in the clear.
At first glance, a knock-off and genuine Lightning cable look almost identical, but the differences lie in the details. Up close, there are several key differences between the fake and genuine Lightning connector that tells you right off the bat which one is the real, genuine cable and which one is the knock-off.

This article may contain affiliate links. Click here for more details.