Where to Buy & Pre-Order the $399 Xbox One
In just a week Microsoft will take another big step forward when it unleashes the $399 Xbox One.
It was around a year ago today that Microsoft officially announced the Xbox One. In many ways that initial console and the vision Microsoft shared in a tent on its campus that day never made it to market. Instead, what Microsoft launched last year was a refined console, one that erased all of the software-changes that gamers – well informed or not – had spent the entire summer railing against.
From the outside looking in, Microsoft went back to the drawing board. Gamers didn't like the idea of all of their games, whether they were purchased on a disc or not, being installed on the console's hard drive. So Microsoft changed it. Today, Xbox One owners can simply insert their disk, perform a much smaller installation and play their games.
The company also ditched its plan to require that Xbox One users be connected to Xbox Live at least once a day to play their games, and today the Kinect 2 sensor isn't required to be plugged in for all games.
Read: Xbox One Review – Six More Months with Microsoft's Console
It's that last change that made the $399 Xbox One, and the Xbox One's expected up-tick in sales next month, possible. To be clear, all signs point to the $399 Xbox One selling like hot-cakes when it arrives on store shelves. Here are the places you should be looking for the console and where you can already pre-order the $399 Xbox for delivery on June 9th.
Microsoft Store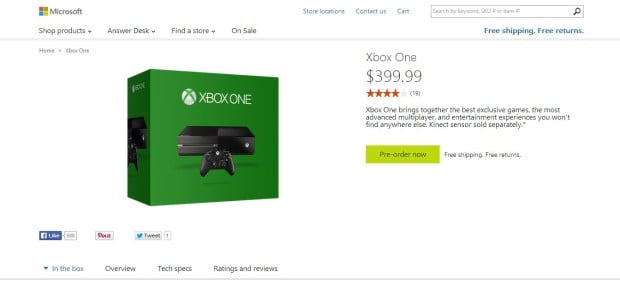 As of Thursday, May 29th, the Microsoft Store, Microsoft's brick and mortar stores and online marketplace, is still taking on pre-orders for the $399 Xbox One. Users who pre-order from the Microsoft Store won't be required to pay shipping and handling. Typically, products pre-ordered from the Microsoft Store arrive at homes on the day of release in the continental United States. Microsoft says it won't charge $399 Xbox One buyer's card until it has shipped the console.
Amazon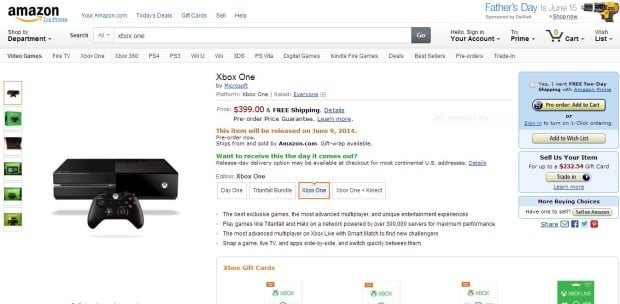 If it's a consumer device that users care about, Amazon has it, and the $399 Xbox One is no exception. Like Microsoft, Amazon is also offering users free shipping and release date delivery for those who pre-order. Amazon isn't offering much in the way of special deals, however it will gift wrap the $399 Xbox One if it's going to be someone's birthday or graduation present.
GameStop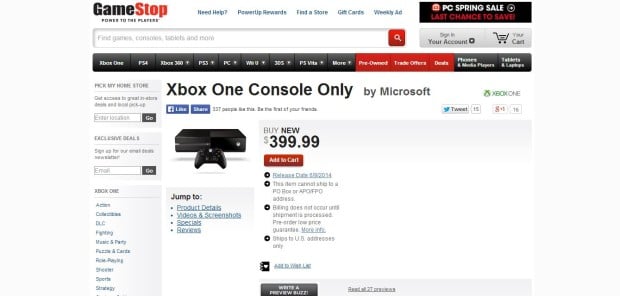 Where GameStop differs from other places is its store foot print. There are thousands of GameStop locations where users can pre-order the $399 Xbox One, pay it off before release day and pick it up in store. Of course, users can also order the console from GameStop's website. They too, won't charge users credit cards until the console is shipped. Those who buy the console in store can trade in their Xbox 360 and older games towards the cost of the $399 Xbox One to make it even more affordable. Unfortunately, we checked GameStop and couldn't find any special trade-in value boosts for those upgrading from older consoles.
Target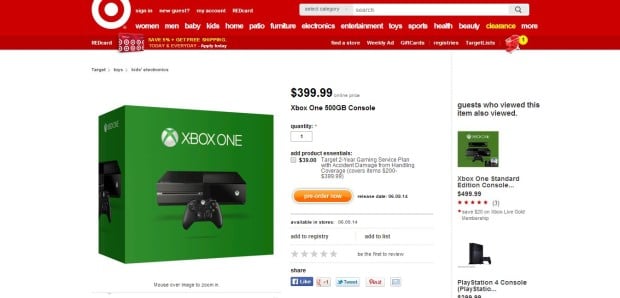 Finally, there's Target. Like the other retailers, Target is offering users the opportunity to pre-order the $399 Xbox One before release day. However, it doesn't seem as if Target is offering any extras beyond that. As such, users shouldn't even expect free shipping. Since Target has thousands of locations nationwide, users should be able to pick up the console in those stores as well.
Before pre-ordering the $399 Xbox One it's important to know how essential that Kinect 2 sensor is to the Xbox One experience. To be clear, it isn't just that buyers won't be able to play motion based games. The Xbox One uses the Kinect 2 sensor to interact with televisions and audio equipment. Without the sensors, users won't be taking advantage of the HDMI pass-through port on the Xbox One's rear easily. They will be able to open the Live TV app, but they'll need to pick up their cable box's remote if they wish to do watch television. Even something as simple as starting a live stream or using a QR code to redeem games will become a three-step process for $399 Xbox One buyers.
Users who are comfortable with those limitations should move to pre-order their console immediately. Some retailers have pointed to there being very high demand for the cheaper Xbox One console. Microsoft has confirmed that users will be able to buy a Kinect 2 sensor separately later this year. How much that'll cost remains unclear, but at least it's giving $399 Xbox One buyers that option.
Both versions of the Xbox One include an Xbox One Wireless Controller, an Xbox One Chat Headset, an HDMI cable, a power cable and the console itself. Users will still need an Xbox Live Gold subscription if they want to play games online. That being said, Microsoft won't require users to have a Gold subscription to use the console's entertainment apps.