Where to Buy the Moto 360 Today
After months of waiting and tons of hype the brand new Moto 360 Android Wear smartwatch is finally here. This morning all the details, release date, and pricing were officially announced.
Since first being debuted back in March when Google unveiled Android Wear, their OS built from the ground up for wearable devices like a smartwatch, the Moto 360 has been the most anticipated device, and now it's available. Sort of. Today Motorola took the wraps off the device, and it's now available from multiple outlets.
Read: Moto 360 Hands-on
The Moto 360 release date is today, September 5th and you can try to buy the smartwatch from an array of different source, but so far the release isn't going very smooth. After months of waiting, and arriving over two months later than the first two Android Wear smartwatches, it's here, but selling out quick. Read on for all the details regarding where to get the Moto 360 today.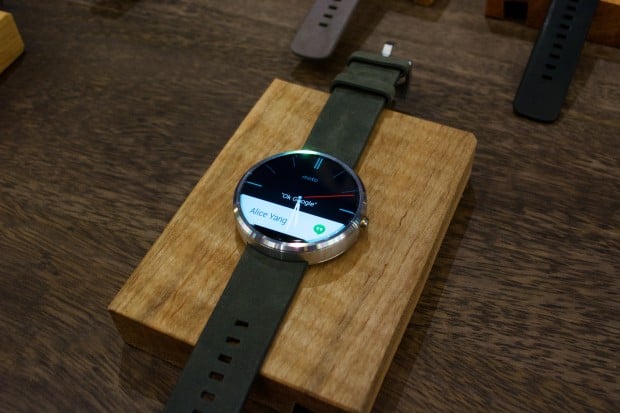 As stated above, the Moto 360 release date is today, September 5th. Many reports and rumors suggested September 10th would be the day, but Motorola shocked everyone by releasing a trio of devices early this morning. For all the details you'll want to see our coverage of the new Moto X, new Moto G, and the Moto 360 linked to above.
So now that the device is finally released, where can you get one? The new Moto 360 is available starting today from Motorola.com, Best Buy stores and online, as well as the Google Play Store. As expected the smartwatch is priced fair at $249 and comes in either silver or black, both of which are aluminum with genuine leather bands.
Motorola stated that select Best Buy locations would have the device in-store, as well as purchasable online, but so far we're not seeing any in stock for another 3-5 days from all the Best Buy stores in my region, as well as others such as California. We've checked, and they're not available yet, but may be once doors open this morning.
The Moto 360 offers one of the best smartwatch experiences around, and we've only just started. The smartwatch and Android Wear are both expected to be updated to Android L, and last week Google promised some major updates are coming soon for the entire Android Wear platform. For now it's still in its infancy, but significant improvements and changes are on the horizon.
Below are the links to all areas the Moto 360 are available starting today.
Best Buy: Black Leather – Silver Frame
The Google Play Storefront still doesn't show the Moto 360 in the Android Wear section, but the link above indeed goes to a product page where it's currently listed as out of inventory. The launch is this morning, so expect it to become in stock and available for purchase sometime this afternoon.
We're seeing estimated delivery dates of September 10th from most places, so unless you're lucky enough to have one of the limited Best Buy stores with stock today, most likely it won't be arriving until early next week for buyers.
As a reminder the Moto 360 has a beautiful 1.56-inch 320 x 290 resolution display, runs Android Wear, and is packed full of features. Everything from being water and dust resistant, to offering wireless charging. So far we've yet to have enough time with the watch to make a comment on battery life, but it's promising. For now there's only two options available, but we're expecting an array of customization and different leather straps to be available in the near future.
Again the Moto 360 smartwatch should be available from all the sources above starting today for $249. The leather bands are the only option for now, but an all aluminum watch band will arrive later this fall making the device retail for $299. We'll update as more details arrive and stock limits start to dwindle. So far Motorola.com is already back-ordered, so get it now before it's too late.

As an Amazon Associate I earn from qualifying purchases.