Where to Get the Best iPad Pro Wallpapers
The new iPad Pro comes with a gorgeous 12.9-inch display that has an unbelievable resolution of 2732 x 2048. To get the most out of the beauty of the iPad Pro's screen, here's where to get the best iPad Pro wallpapers.
The iPad Pro was announced and unveiled back in September and was released last month. It's Apple's largest iPad yet, overpowering the iPad Air 2 by over two inches and it even comes with a big performance upgrade as well, sporting Apple's new A9X processor and 4GB of memory, whereas the iPad Air 2 only has 2GB of memory.
The tablet also comes with a stereo speaker setup and a magnetic dock connector that allows you to easily connect Apple's Smart Keyboard to the iPad Pro. There's even a stylus from Apple that works exclusively with the new tablet.
The iPad Pro is certainly not a tablet that every iPad users needs or even wants, but there are many consumers who love having a larger screen, and while the tablet does come with an expensive price tag, it's a cost that some users are willing to pay for better performance and larger screen real estate.
Read: Which iPad Should You Buy? An In-Depth Comparison
However, in order to show off that larger display, you'll want some really impressive wallpapers to truly make it pop — you didn't spend all that money for a larger display for nothing. Here's where to get the best iPad Pro wallpapers.
DeviantArt
DeviantArt has long been one of the biggest places for artists of all kinds to show off their work, and it's also a great place to get iPad Pro wallpapers.
DeviantArt has a Wallpaper category that you can browse through, but really any piece of work that you see on DeviantArt could easily be an iPad Pro wallpaper.
You'll just have to make sure that the resolution for any wallpaper or photo that you use for your iPad Pro is at least 2732 x 2732 so that the wallpaper can rotate to either portrait or horizontal mode without the wallpaper stretching to fit either orientation.
Reddit
I love Reddit. It's a place where there are thousands of niche forums rolled into one website and you can find a subreddit for pretty much any topic, including wallpapers.
Reddit has a dedicated /r/Wallpapers subreddit where anyone can post a wallpaper that they like, but just like with DeviantArt, there are plenty of other categories where you can look for great wallpaper.
We personally love the /r/EarthPorn subreddit where you can find some awesome high-resolution photos of landscapes from all over the world, which would go great as an iPad Pro wallpaper.
InterfaceLift
If you're looking for a website dedicated to just wallpapers, InterfaceLift is probably your best bet.
One cool feature of InterfaceLift is that you can browse by device, so if you have an iPhone 6, you can view wallpapers that are optimized for the that device, and the same goes for iPads, although the website doesn't have a dedicated filter for the iPad Pro, which means you'll likely have to find high-resolution wallpapers and crop them down to the right dimensions for the iPad Pro.
Read: iPad Pro Review: Why I Returned the New iPad
However, InterfaceLift is a one-stop shop for wallpapers and they have a lot of great ones to choose from. The site also hosts Windows themes and Windows app icons, if that's your thing.
Google Image Search
If you're feeling open and just want to look at some random wallpapers that you may like for your iPad Pro, performing a simple Google Image Search may do the trick.
By simply typing in 2732×2732 in the search box on images.google.com, you'll get all sorts of random photos and wallpapers that use that exact resolution that you specify, making it really easy to find iPad Pro wallpapers without worrying whether or not it's the right resolution for the tablet.
Create Your Own
If you're feeling creative and want to use original wallpapers only for your iPad Pro, there's no harm in creating your own wallpaper, whether it's by using Photoshop to create some digital art or just using a photo that you took yourself.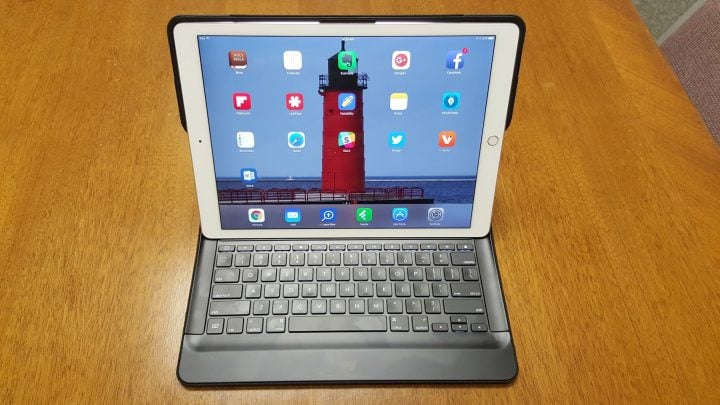 This is especially a good idea if you enjoy having a photo of your kids or a pet as your wallpaper, and while it doesn't necessarily show off the crisp and colorful display of your iPad Pro like other wallpapers would, having your own original wallpaper is perhaps the best wallpaper of them all.
8 Exciting iPad Pro Accessories
Apple Smart Cover
Just like with all of the other iPads, the iPad Pro will have its own Smart Cover made by Apple.
The Smart Cover is a detachable cover that you can get for the iPad Pro that attaches using magnets and covers your iPad's screen when you're not using it. When you do want to use it, simply fold back the Smart Cover and it will automatically turn the screen on.
The Smart Cover can also double as an iPad stand at two different angles, although we wish there were more angles that you can adjust it to, since the two different angles aren't ideal for every situation.

As an Amazon Associate I earn from qualifying purchases.