Where to Get Double GTA Online Cash and RP This Week
No need to play the same levels over and over. Video game developer Rockstar is making sure that players of GTA Online have a decent place to score cash and in-game bonuses into the weekend. Those cash bonuses and extras center on one of the game's best mechanics by far: raids.
Starting yesterday and running until July 26th, anyone playing GTA 5's GTA Online multiplayer experience will get double RP and double cash payouts, according to a blog post on Rockstar Newswire. If getting paid double to pull off missions sounds familiar it is because Rockstar did the same thing last weekend with its Prison Break mission.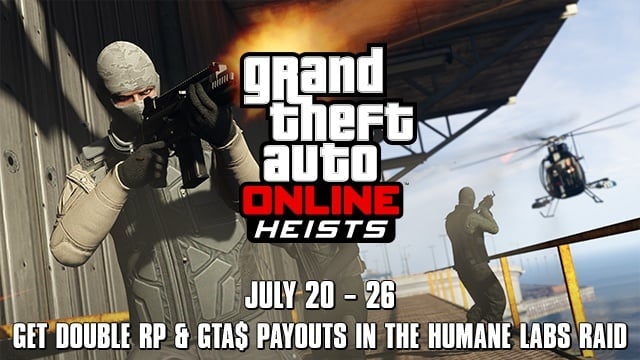 This week GTA Online players make more cash and level up faster by playing The Humane Labs. The Humane Labs mission involves helicopters, major firepower and some pretty decent flying skills. Users need three other friends to join them in the game to play. They can be personal friends that they game with on the regular, or players they are matched with automatically through GTA Online.
Besides giving users double the rewards for completing the mission, Rockstar is also throwing in double the cash for completing the Elite Challenges for The Humane Labs. Those challenges include not damaging any of the vehicles you need to complete the mission and finishing it in just 11 minutes. To be clear, if you're a relatively inexperienced GTA Online player, you'll want to level-up and pick up some essential equipment from the game's stores before attempting to earn double cash in GTA Online this weekend. Heists can be pretty unforgiving.
Besides handing out double cash, Rockstar is also giving out more RP for those who put in the work on basic skills. Completing a Gang Attack, delivering a vehicle for export to Simeon, Parachuting, Plane Takedown, destroying vehicle targets and flight school are all giving out bonus RP too.
Read: Why & How to Make Money in GTA 5's GTA Online
GTA Online is GTA 5's dedicated multiplayer experience. It's a lot less focused on story than it is you as a player. You start out the mode creating your own player complete with accessories. GTA Online has a real economy, with things for you to purchase for your character. The more money you have, the easier it is to get the best equipment and go after the more ambitious missions — like Heists.
As you complete missions and do small activities in the game, you get RP or Reputation. Reputation is important because you need more of it to unlock new mission types, Heists and weaponry. For example, players first starting out in GTA Online can't participate in Heists and can't get a parachute. Both are perks that only come with leveling up your character.
All told, this double GTA Online cash offer this week should do plenty to help players get to even higher levels and afford even more things in the game. Offering bigger payouts is Rockstar's way of making sure population in the game stays reasonably high. It's also a great way to reel users back in who've chosen not to use real world money to buy things in GTA Online.
Rockstar says that it has plans to slash prices on some items throughout the week. To find out what that gear is on sale users need to follow the studio's Twitter, Facebook or Instagram for details. Rockstar only recently added tons new cars, weapons and luxury vehicles to GTA Online for purchase. These items include a gold plated jet.
GTA Online comes free with every copy of GTA 5, whether it's disc or digital.

As an Amazon Associate I earn from qualifying purchases.