Where to Get Your Droid Bionic If You're On a Budget?
While Verizon Wireless's official $300 asking price for its flagship Droid Bionic smartphone is standard for a 4G LTE device, you can get more bang out of your buck if you shop around. We're hearing some discounts at a number of reputable wireless dealers, including through Amazon, which is offering the phone for significantly less, and through Costco, which has a minor discount on pricing but will give you significantly more as far as value with a pre-bundle of accessories that come gratis.
Be sure to read our Droid Bionic Review before you place your order.
Here are some of your early options that will help you beat your budget if you're an early adopter:
1. Verizon Wireless Upgrade – $100 Off: As we mentioned before, if you're upgrading from a dumb phone, the carrier wants to reel you in with the minimum $30 data plan you're willing to spend every month. As such, Verizon will give owners who switch up from a dumb phone to the Droid Bionic, or any other smartphone, a $100 gift card. Though it's not cash, you can essentially call it a $100 off the $300 asking price and perhaps apply the gift card towards accessories.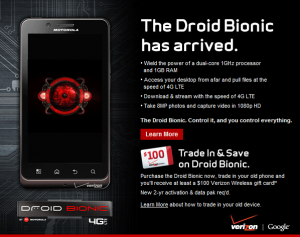 2. Amazon.com – $200 ($249 Upgrade Price): Our own Adam Mills had informed me that Amazon's running a promo for early adopters out of the gate to take the price of the Droid Bionic to $200, rather than $300, with a two-year contract. It's standard, and paying $200 instead of $300 out the door may make the phone more palatable for many. Of course, you'll have to order through Amazon, and probably won't be among the cool, or rather geeky, kids on the block with your Bionic on launch day as you'd have to wait a day or two for the device to ship.
3. Wirefly – $249: For Wirefly fans, you can purchase the Droid Bionic for just $249 with a 2 year contract. This deal is open to new Verizon customers, and for upgraders.  There is free Fedex shipping, so while you won't have yoru Droid Bionic today, you will have it pretty fast.
If you are a Verizon customer with a regular phone, you can combine the cheaper $249 price with the $100 Verizon Wireless giftcard to get your Bionic for a net cost of $149 — a steal.
4. Costco $299 Bundle: The discount warehouse wholesaler is rumored to be offering a slight discount on the phone. Earlier leaks suggest that Costco may offer the phone for the same price as Verizon–at $300–but will throw in hundreds worth of free accessories. Well, that deal may be a little sweeter, especially for those who like to lavish their new smartphones with accessories, as Costco is now said to offer the device for $20 less at $280, but will throw in a total of $158 worth of accessories. If you use all the accessories and factor the price in, Costco's price is cheaper than Amazon's asking price, and factor in the $50 annual membership card to shop at the wholesaler, you're still ahead of Amazon's price by $8.
What you'll get inside your Costco package include: standard dock, vehicle car mount with rapid car charger, extra battery, and a battery charger, according to Phone Arena.
5. Shop around: Unless you absolutely must have the phone at launch day and have no problems forking over $300, your best bet is to shop around. 4G LTE smartphones in the past have been offered for significantly less than when they first launched over time, and waiting a few weeks may save you even more. It's unclear how steep the discounts will be with the Bionic as it is the flagship phone for Verizon.