Where's Matt and His Asus R2H?
So, this is turning into a Where's Waldo kind of thing. The rest of the GBMTeam has been wondering where Matt is with his new Asus R2H Ultra-Mobile PC. He's sent a couple of e-mails with simple statments like "wow," "cool," and "you won't believe this." I've been ribbing him in posts and on our last Audio Inkshow. But we haven't heard hide nor hair from the boy. Well with an email with the subject line "Look at me go" he sent this picture: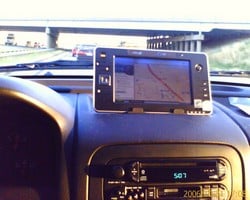 So, I guess Matt is off and running with his new Asus. If anyone sees him, please let us know.

As an Amazon Associate I earn from qualifying purchases.