Which iPad Should I Buy? 16GB vs 32GB vs 64GB
If you're planning to buy the new iPad on release day, you need to figure out which size iPad you will buy.
Apple still offers all sizes for iPad 3 release date delivery. In case you're late to the party, the new iPad is the iPad 3.
(Read: New iPad Buyer's Guide)
While the new iPad looks a lot like the iPad 2, there are a few key differences that you should consider before you go with the smallest and cheapest iPad.
(Read: Should I Buy the New iPad?)
What Kind of iPad User Are You
In order to pick the right size iPad for you, you need to know how you want to use the new iPad. I share common uses below, which should help you  figure out how big of an iPad you need to buy.
Web Surfer and eBook Reader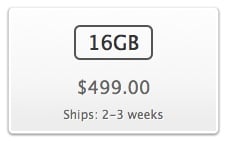 If all you plan to do with the iPad is read eBooks, surf the web and download a few apps, the 16GB iPad should give you moe than enough space. My grandma and my mother fit into this category, as do many others.
Streamer (Netflix, Hulu and Pandora)
If you get all of your media form the cloud, you won't need a huge iPad either. Even if you want to watch tons of movies and TV shows on Netflix and Hulu Plus, you won't use up much of your storage space. Same goes for apps like Pandora, which don't keep a local copy. If this sounds like you, a 16GB iPad will suffice, but you'll be more comfortable with the 32GB.
Basic iTunes Afficionado
If you buy all of your media in iTunes, subscribe to iTunes Match and store your movies and videos in iCloud, you can still be a media junkie and get by with a smaller iPad. In this case I would still jump up to the 32GB model if you can afford it, because you may need the extra storage when you go on trips and are away from WiFi.
App Addict
App sizes are going to climb once developers start pushing out new iPad versions to take advantage of the Retina Display. If you love apps, especially beautiful apps, I suggest starting at the 32GB iPad and going up to 64GB if you can afford it, especially if you plan to keep music or movies on your iPad as well.
iPad Gamer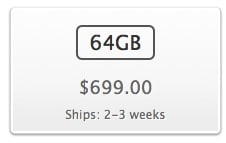 If you want to play the great new games that are coming to the iPad with stunning visuals, like Epic's Infinity Blade Dungeons and Namco's Sky Gamblers, be prepared for apps that eat up lots of storage space. Infinity Blade II clocks in at 1 GB, and you can expect this next wave to come closer to 1.5Gb or even 2GB. If you want to game on the new iPad pick up the 32GB or even better the 64GB.
Photo and Video Nut
If you plan to use the camera on the new iPad to take photos and video, as well as manage your photo library using iPhoto for the iPad you should get the 64GB iPad, especially if you plan to import photos from your point and shoot or a prosumer DSLR.
3 Reasons to Buy a Bigger iPad
If you had extra room on your old iPad, you might think that upgrading to the 16GB new iPad would be enough, but there are several reasons you might want to upgrade to the next size up when you buy the new iPad.
Retina Display Apps
The new iPad has an incredibly high-resolution Retina Display that makes apps, movies and even web surfing look incredible. The downside is that apps for the iPad will soon be much larger, as developers incorporate the higher resolution graphics into their apps.
The new graphics will deliver crisper looking images and stunning visuals like you can see in the image above, and the new Retina Display ready game trailer for Infinity Blade Dungeons shown below.
https://www.youtube.com/watch?v=4Rp-TTtpU0I
Apple already knows that app sizes are going to grow to accommodate the higher resolution images. During the new iPad announcement Apple announced that users will now be able to download apps up to 50MB in size over 3G and 4G networks. This is an increase from the earlier 20MB limit, and should give you an idea of how much Apple thinks apps will grow now that they are including huge image files file the new iPad.
Improved Camera
The new iPad has a vastly improved camera, capable of taking good-looking stills and 1080P HD video. Both of which can eat up storage space faster than on the iPad 2.
Add in iPhoto, which could convince you to carry around a larger selection of your photo library, and you have reason enough to jump up to the next size iPad when you upgrade.
1080P movies and TV
iTunes now offers 1080P HD movies and TV shows. While iTunes uses great compression, you will still see file sizes increase by 15-20%. That may not sound like much, but if you want to keep whole seasons of TV shows, or even two movies on your iPad for a trip, 16GB will be cramped and 32GB may be "cozy" once you add in your apps and photos.
—
I purchased the 32GB version of the new iPad, though I ay soon regret it. I filled up my 32GB iPad 2, to just 500MB left when I sold it. This time around I am not keeping any local music on the new iPad, and I plan to do most of my video watching on Netflix, Hulu Plus and HBO Go.
Which size iPad will you buy?