Which iPad Should You Buy? An In-Depth Comparison
If you're in the market for a new iPad, here's a comparison of the current iPad models, as well as some advice on which iPad you should buy.
Up until recently, there were only two iPad models you could choose from: the 9.7-inch iPad Air series and the smaller 7.9-inch iPad mini series. However, there's now the iPad Pro, which comes with a 12.9-inch screen, a faster processor, more memory, and a higher price tag.
Some frugal buyers may just find the cheapest iPad and buy it without any questions, or if you have some cash to throw around, you might just buy the most expensive model without hesitation, but for those who shop carefully and want to get the right iPad for them at the right cost, you'll want to do your due diligence.
Apple currently sells five different iPad models, and each of those models come in different colors, storage sizes, and connection configurations (WiFi/Cellular). This results in a lot of different options to choose from, which can be a bit daunting, but by answering a few questions, you can quickly figure out the right iPad model for you.
Here's a comparison of the different iPad models available, and some information that you'll need to answer the ultimate question: which iPad should you buy?
iPad Models & Price
The five different iPad models available are the iPad Air 2, iPad Air, iPad mini 4, iPad mini 2, and the iPad Pro. The iPad Air series has a screen size of 9.7 inches — the original screen size that the iPad first came in. The iPad mini series has a slightly smaller display at 7.9 inches and the iPad Pro is the largest of them all, carrying a 12.9-inch display.
All models except for the iPad Pro come in a 16GB storage option. After that, it depends on what model you're looking at as far as what storage sizes it comes in. The iPad Air 2 and iPad mini 4 have 64GB and 128GB storage tiers available, while the iPad Air and iPad mini 2 only have a 32GB model available on top of the 16GB option. The iPad Pro comes in either a 32GB or 128GB flavor.
As for performance, the iPad Pro is the fastest of them all, followed by the iPad Air 2, then the iPad mini 4, and then the iPad Air and the iPad mini 2 equally, since both of those devices have the same specifications. We discuss more on performance further down.
Read: The Surprising Reason Apple Sells the iPad Mini 2
When it comes to cost, the cheapest iPad you can buy is the iPad mini 2, which is priced at $269 for the 16GB model, and cost only goes up from there, priced as much as $1,079 for the 128GB iPad Pro. For different prices in between, here's a quick rundown:
iPad Mini 2: $269
iPad Mini 4: $399
iPad Air: $399
iPad Air 2: $499
iPad Pro: $799
Essentially, the bigger screen size you want, the more you'll pay overall. Of course, price isn't everything, and there are a few other questions you'll want to ask yourself when it comes to buying the right iPad for you.
What the iPad Can Do
Before we get into the questions that you should ask yourself when deciding on an iPad model, it's important to know what the different iPad models are capable of and which one may suit you more based on your wants and needs.
Essentially, the iPad allows you to do the same things on an iPhone (for the most part), but just on a larger screen, which means that some apps and games can actually be better used on an iPad, like drawing apps, games, etc. thanks to the larger screen and more room to work on.
However, some iPad models come with more memory (a.k.a. RAM), which allows you to have more apps running at once without the device getting bogged down, and more intense games with higher graphics will perform better on such iPads.
Apple doesn't officially state how much memory its iPads have, but teardowns over the years have made this information public. The iPad Air 2 and the iPad mini 4 have 2GB of memory, while the iPad Air and the iPad mini 2 have 1GB of memory. The iPad Pro has a whopping 4GB of memory (and the faster processor), making it the powerhouse device when it comes to performance, with an A9X processor running the show.
The iPad Air 2 comes with an A8X processor, while the iPad mini 4 has an A8 processor. Both the iPad Air and the iPad mini 2 are running A7 processors. Of course, the name of the processor isn't too important, but the higher the number, the faster the processor is. Apple claims there's a 1.3x processor boost with the A8 over the A7, and a whopping 2.5x boost from the A7 to the A9X.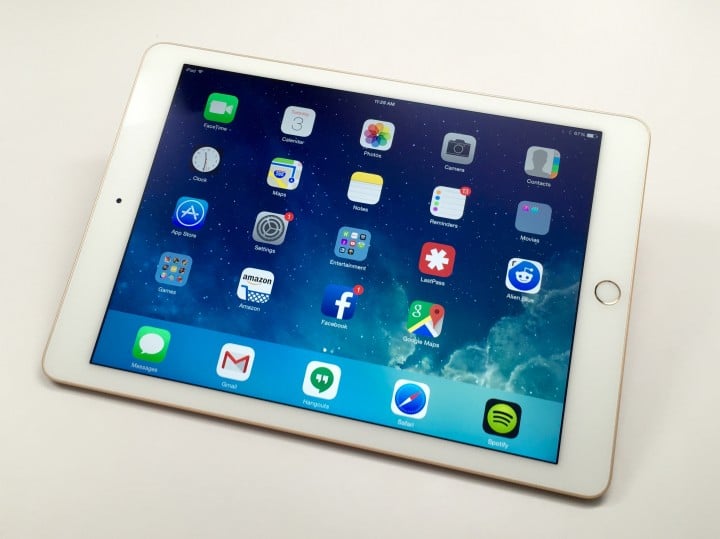 Keep in mind that an older iPad model will have a slower processor, which is fine, but the older you buy, the quicker that the tablet will need replaced in the future, whereas if you bought a newer model, it would last you a bit longer into the future.
Read: Is the iPad Mini 2 Still Worth Buying?
iPads can also take photos and record video. All five iPad models that Apple sells are able to record 1080p HD video, but only the iPad Pro, iPad Air 2, and iPad mini 4 are able to record slo-mo video. With photos, those three iPad models can take 8-megapixel photos and shoot burst photos as well, whereas the iPad Air and the iPad mini 2 only have 5-megapixel sensors and can't shoot in burst mode.
As for battery life, there's no differences between the five models. All of them have the same claimed 10-hour battery life. Apple says that you can get "up to 10 hours of surfing the web on Wi‑Fi, watching video, or listening to music." Of course, you can stretch that out a bit if you don't use your iPad too often, with some users able to go a couple of days without recharging.
Now that you know more about the iPad and the different models that are available, here are some questions to ask yourself in order to narrow down which iPad you should buy.
How Big of a Screen Do You Need?
This is perhaps the most important question to ask yourself. Deciding on a screen size will severely narrow down the options for you if you're having a hard time deciding which iPad model to get.
There are three screen sizes you can choose from: 7.9 inches, 9.7 inches, and 12.9 inches. Of course, the larger screen that you choose, the more money you'll spend, so keep that in mind.
If you're not sure which screen size to go with and want to get a feel for how big each iPad would be, your best bet is to go to an Apple Store or Best Buy and check out the display models. If you're a bit more DIY-oriented or just don't want to go out to a store to window shop, you can get a sense for the screen sizes right at home.
Read: iPad Air 2 vs iPad Mini 4: Which One Should You Buy?
Simply take some sheets of paper and cut them down to the necessary screen sizes. The iPad mini's 7.9-inch screen is roughly 6.3 inches by 4.75 inches. The iPad Air's 9.7-inch screen is around 7.75 inches by 5.8 inches, and the iPad Pro's 12.9-inch display is 10.3 inches by 7.75 inches.
Using paper as a size guide allows you to hold it in your hand and play around with it a bit to get a feel for the screen size, but note that the piece of paper you cut out isn't the same size as the iPad overall, which will be a bit bigger around the edges, obviously.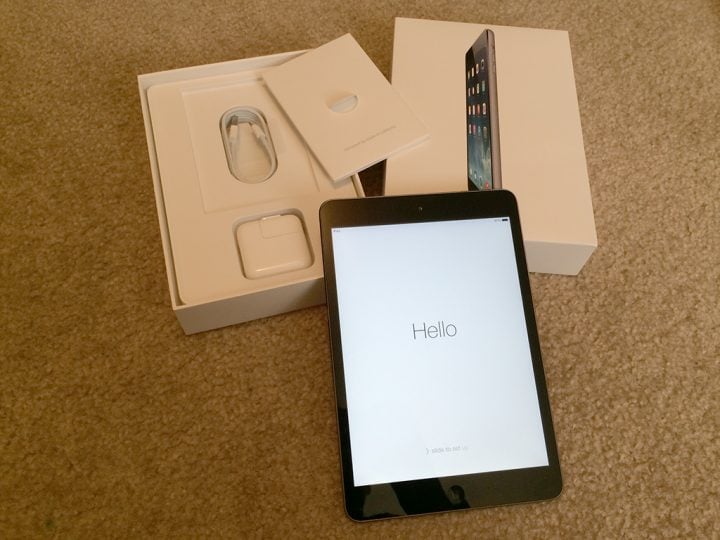 The smaller iPad you get, the more portable it will be, whereas a larger iPad will still be portable, but it might be a bit more cumbersome to wield around. There's also a weight difference between the different screen sizes. The iPad mini weights between 0.65 and 0.73 pounds, depending on what model you get, whereas the iPad Air weighs between 0.96 pounds and 1 pound. The iPad Pro is the heaviest of them all, weighing 1.57 pounds.
Once you figure out a screen size, though, your options will narrowed down significantly, but there are still some things to decide.
How Much Storage Do You Need?
Another important question to ask yourself is how much storage do you need for your iPad? You can get an iPad with as little as 16GB of storage, all the way up to 128GB of storage.
There are many reasons why you shouldn't buy a 16GB iPad, but depending on what type of user you are, you could get away with that much storage with a few tricks.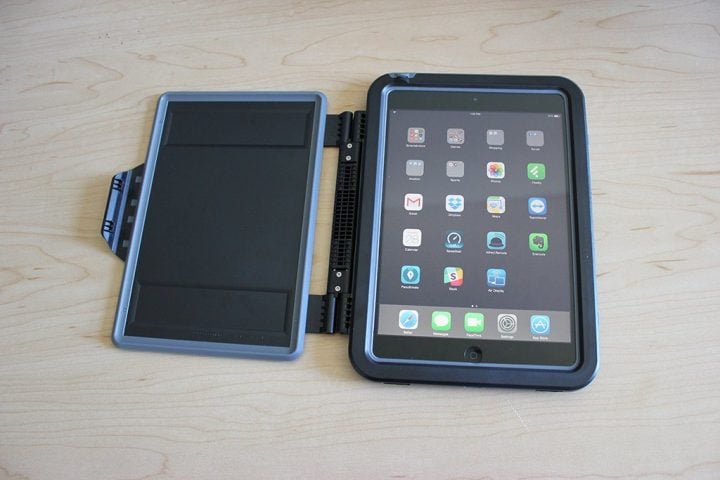 However, there are also reasons why 128GB storage might be too much storage for you, so you be may be looking at a Goldilocks situation here, where either 32GB or 64GB might be ideal. It all depends on what you plan to store on your iPad and how many apps and games you might download and install.
Movies, TV shows, and other videos will obviously take up the most storage, followed by music and photos, and then apps and games. If you're not a huge media junkie, a 32GB iPad might be best, whereas a 64GB iPad would be ideal if you have lots of photos, apps, games, etc., as well as the occasional movie for plane rides.
Read: iPad Mini 4 vs iPad Mini 2: Which One Should You Buy?
However, don't be afraid to get the 128GB model if you know you'll need that much storage, or even the 16GB model if you absolutely know that you won't have a lot of stuff stored on the tablet.
Do You Need a Cellular Model?
Another, yet easier, question to answer is whether or not you'll need a cellular iPad model. As far as connectivity options are concerned, you can get an iPad in a WiFi-only configuration or a WiFi + Cellular model, which allows you to use the tablet with a data plan and get internet anywhere you go, even if you're not connected to WiFi.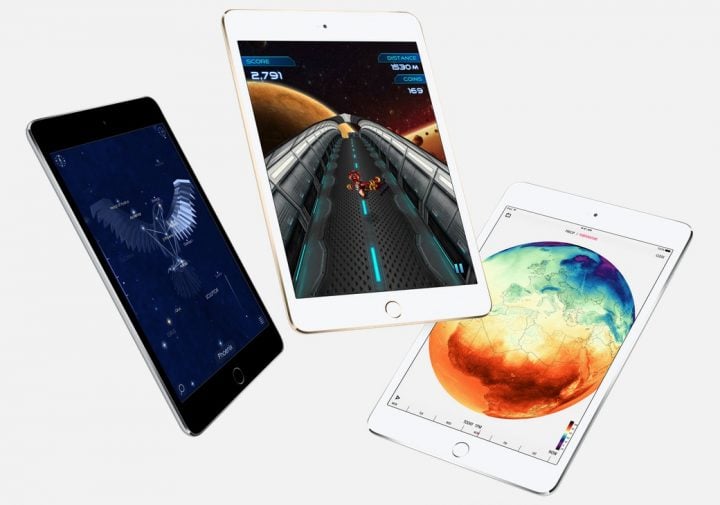 Keep in mind that a cellular iPad model will cost more than a WiFi-only model, and you'll also pay a monthly fee for the data plan. More specifically, you'll pay $130 more for a WiFi+Cellular iPad model, except for the iPad Pro, where there's only one WiFi+Cellular model available for $1.079.
As for the data plan, that really depends on the carrier you choose and what type of data plan you get, but some carriers allow you to add an iPad to your current phone data plan by just paying a small monthly access fee, which can certainly lower the cost. For instance, you can add an iPad to your current Verizon data plan for just $10 per month.
Do You Want Touch ID?
Touch ID is the fingerprint sensor that's embedded into the home button on several iOS devices, and it makes unlocking your iPad much more convenient, since you don't have to keep entering in a passcode every time.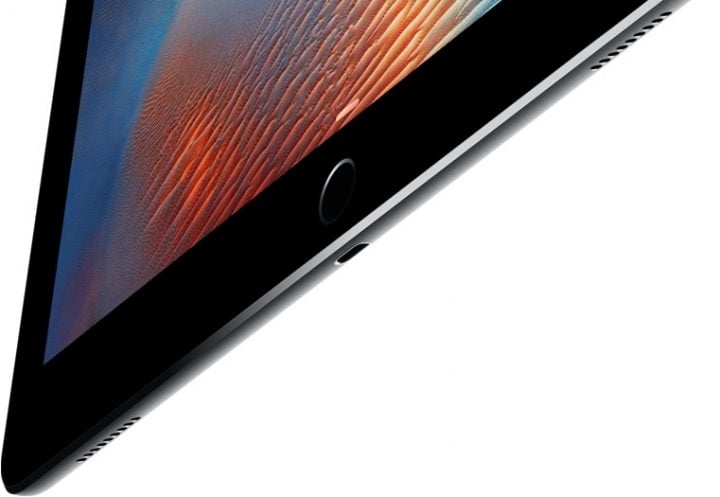 Touch ID is also used for authorizing purchases in the App Store and authorizing payments through Apple Pay within shopping apps.
Read: iPad Air 2 vs iPad Air: 6 Reasons To Spend $100 Extra
It's a cool feature to have, but only certain iPads have it. The iPad Pro, iPad Air 2, and the iPad mini 4 come with Touch ID, whereas the iPad Air and the iPad mini 2 do not have it.
It's really just a preference as far as whether or not you should have Touch ID, but it's worth noting that you'll pay a bit more for the tablet to have the privilege of getting Touch ID capabilities.
What Color Do You Want?
Perhaps the last, and most trivial, question to ask yourself is what color iPad you want.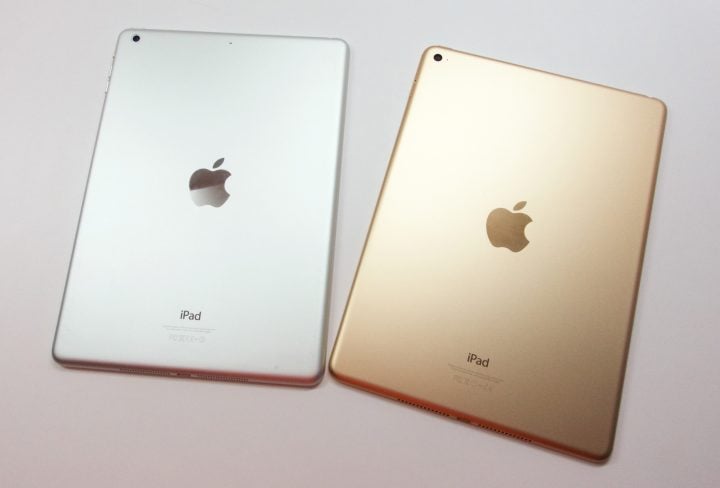 All iPad models except for the iPad Air and the iPad mini 2 come in silver, space gray, and gold. The iPad Air and the iPad mini 2 only come in silver and space gray, so if you want a gold iPad, your options are automatically narrowed down a bit.
Read: Which iPad Air 2 Color to Buy: Gold, Silver or Gray?
Functionality-wise, there's no performance difference or anything between the different color options. It's really just a matter of picking your favorite color and going with that.
The Bottom Line
If you're someone who likes to do their research and window shop, it's probably going to come down to price for you, but you also want to get an iPad model that has enough storage and is new enough to last you a while before you need to upgrade again.
This is why it's important to ask yourself all these questions, because if you simply just buy the cheapest iPad available, your experience may not be all that great with just 16GB of storage space. And if you buy an older model to save money, the performance may not be at a level you want.
So while price is important, it's really all about the different factors coming together to create the ideal experience that meets your needs.

As an Amazon Associate I earn from qualifying purchases.