Which Samsung Galaxy Tablet Should I Buy?
Restaurants that feature a buffet are a great choice for many because they offer so many choices. The range of choices of entrees and sides can potentially satisfy just about any craving. For those who have problems making a decision though they can offer too many choices. If you've ever been to a buffet you've seen that type. They stand there looking at the selections or wander around the buffet table trying to make a decision on what choice to make. The nice thing about a buffet is diners typically pay one price and then get to make their choice. When it comes to tablets, at least Samsung tablets, the decision involves an almost dizzying array of price comparisons vs features that can make a choice between the chicken, fish, or beef make one consider to just hit the salad bar.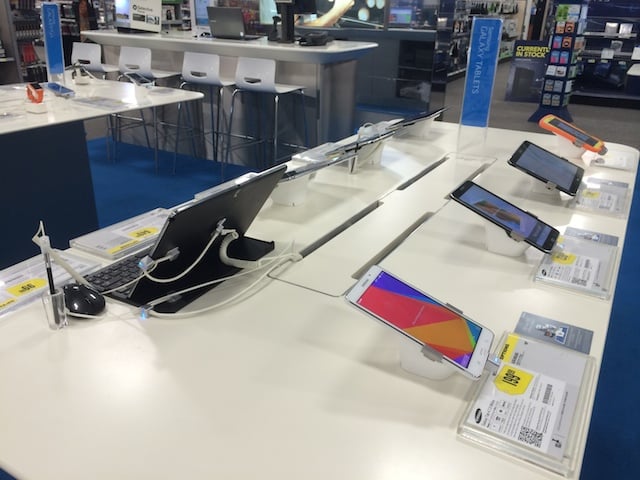 Last week Samsung introduced two new tablets into its Galaxy Tab line, in essence swelling an already overflowing buffet offering of tablets for consumers to choose from. By some counts Samsung currently has 10 tablets available for sale in the U.S. currently. Unless it discontinues a few of the existing models we could be approaching 12 Samsung tablets sitting on display tables in Best Buy or in listings at Amazon and other online vendors. And that doesn't include the many variances depending on storage capacity and color.
Samsung introduced two nice looking tablets in its new Galaxy S line last week. The 10.4-inch Galaxy Tab S and the 8.4-inch Galaxy Tab S. From early hands on both tablets appear to be thinner than their predecessors with capable specs to power them. They are both positioned as Samsung's next flagship tablets with introductory level pricing that appears competitive. The 10.4 inch Tab S starts at $499 and the 8.4 inch version starts at $399. The typical comparisons with the Apple's iPad lineup have already been exhaustively filling up blogs all around.
But there's other comparisons that consumers, especially those who don't want to play in Apple's ballpark, have to consider. And for those consumers, those comparisons lead inevitably to Samsung's buffet table of Tablets.
If you walk into a Best Buy these days, you'll be confronted with several display tables featuring Samsung products most including the various tablets Samsung already has on the market. They actually look like buffet tables in an odd sort of way. On Amazon you'll be presented with over five pages of selections that include color variants as well as storage capacity differences. Best Buy's online site lists over 50 variations, again with color and capacity size upping the number.
Samsung's Galaxy tablet series has several entrees. There is the Galaxy Tab series and the Galaxy Note series. The Galaxy Note series includes a stylus and display armed with the technology for digital inkers. The Galaxy Tab series does not include those features. And then both the Galaxy Tab and Galaxy Note lines each have "Pro" models as well. The new Samsung tablets now add a third entree, the Galaxy Tab S series.
To a consumer it can be quite confusing. Yesterday I spent some time at the local Best Buy and overheard one customer/sales rep conversation. The customer wanted a non-Apple, non-Amazon tablet. The sales rep started showing him the range of Samsung tablets. The customer, who seemed to be a savvy shopper, stopped after the third tablet and said he wanted to see the best option available in a 7 inch form factor for under $400 that ran KitKat. At this particular Best Buy he still had three tablets to choose from. The customer ended up with a Galaxy Tab 4 8-inch tablet for $239, resisting the up sell to the same model in the Pro version.
So, how do you make a decision among all of the choices that Samsung offers? That's a tough call that Samsung has left the consumer to make. While a consumer's needs and budget have to be key decision points in the end, let's take a look at what the differences are between the Samsung Galaxy tablet lines are.
The Galaxy Note tablets
The Galaxy Note tablets are currently the high end of Samsung's tablet lineup for those who want a stylus for digital note taking or sketching. The Galaxy Note tablets come in three size variants.  The Galaxy Note 10.1 (2014 edition) is a 10.1 inch tablet. The Galaxy Note 8.0 has an 8-inch display. The Galaxy Note Pro is a 12.2 inch tablet. Prices range from $379 for the Note 8.0 to $749 for a 64GB capacity Note Pro. The Note tablets are running Android 4.3 Jelly Bean and the Note Pro tablets run KitKat.
The Galaxy Tab tablets
The Galaxy Tab lineup includes a range of tablets and price points and is possibly the lineup we'll see Samsung discontinue in whole or in part once the new Galaxy Tab S tablets hit the market. That means you may see prices drop on this line of tablets in the near future.
The Galaxy Tab tablets fall within three model categories, each of those categories have different size variants.
The Galaxy Tab 3 comes in 7, 8, and 10.1 inch sizes. The 7-inch versions can be had currently at prices as low as $179 with a very small storage amount of 8GB. The 8-inch model is available at prices starting around $249 with 16GB of storage. The 10.1 inch model is available with prices starting as low as $329. All of the Galaxy Tab models I have seen in research for this post come with either Android 4.1.2 or Android 4.2 Jelly Bean as the operating system.
There is even a Samsung Galaxy Tab 3 Lite version that comes with very reduced specs. It sells for $159.
The Galaxy Tab 4 lineup is a more recent edition for the Tab 3 lineup. The size differences include 7, 8 and 10.1 inch models. Prices range from $199 for the 7-inch Tab 4 to $319 for the Tab 10.1. The screen resolution for the Tab 4 line is 1280 X 800.
There is also a Galaxy Tab Pro model in 8.4 inch, 10.1 and 12.2 sizes that sell for around $329 to $549. The big difference in the Pro and Tab models is the display resolution in the Pro model is 2560 x 1600.
The Galaxy Tab S tablets
The new lineup just announced by Samsung include 8.4-inch and 10.1-inch models with the latest processors and an AMOLED screen with a display resolution of 2560 x 1600. They will be thinner and lighter than previous editions and all run KitKat as the operating system. As mentioned Samsung is touting these new models as its flagship tablets. Prices start at $399 for the 8.4-inch model and $499 for the 10.1-inch model. Both are available for pre-order currently and are scheduled to go on sale in July.
So that's a fundamental breakdown of the Samsung Galaxy tablet lineup. Your decision points are the real key to making a choice. If you want the latest and greatest it might be advisable to wait for the new Tab S tablets to hit the market. If price point is driving your purchase the Tab 3 lineup is not easy to resist, but keep in mind that the technology is two generations old and probably won't receive future updates. That Tab 3 line is also the primary target to get dropped by Samsung once the new Tab S series hit the shelves.
Samsung doesn't make it easy for consumers to choose which tablet is right for them, so it requires some research to make sure you understand what's available. Like with its smartphones Samsung likes to introduce many different models to appeal to many different tastes and price considerations. Unfortunately for both consumers and Samsung that can create confusion that leads customers to look for easier options to understand.

As an Amazon Associate I earn from qualifying purchases.