Which T-Mobile Plans Are Right for You?
There's never been a more exciting time in the wireless industry. Having come back from the brink of a merger, T-Mobile, the United States' fourth-largest wireless carrier, finds itself in a unique situation. The company seems to have found a winning strategy for building its user base and attracting attention from the young and financially conscious. Those are two groups of users normally ignored completely by AT&T Mobility, Verizon Wireless and Sprint. All of a sudden, it's not embarrassing to be a T-Mobile customer — provided they have service in your area and a smartphone you'd like. Naturally, those who are in a decent coverage area are asking themselves which T-Mobile plans are right for them, and whether they should switch.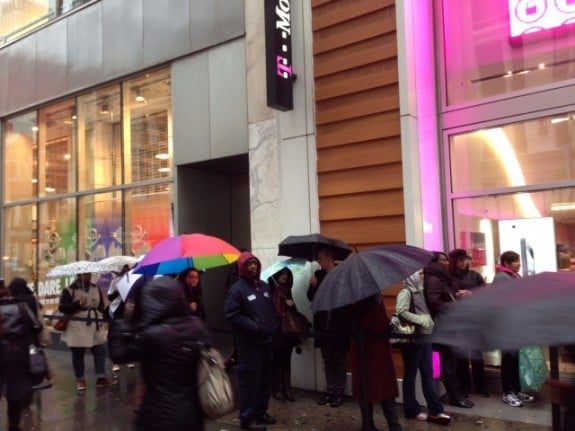 Read: Why Switch to T-Mobile – Un-Carrier, Jump and More
Here's what you need to know before making a decision on T-Mobile wireless plans.
T-Mobile Plans – Simple Choice
You have to lead any conversation about T-Mobile plans with Simple Choice because they seem to be what is driving T-Mobile's growth.
Simple Choice Plans are T-Mobile's version of regular post-paid plans from other carriers. With every Simple Choice plan users get unlimited talk, text and data. The more you pay, the more high-speed data and perks you get. $50 gets you 1GB of 4G LTE data. $60 gets you 3GB of 4G LTE data. $70 gets you 5GB of 4G LTE data. $80 gets you unlimited data and a free subscription to Rhapsody's unRadio music service. The $80 plan also unlocks device tethering so you can share your internet connection with your tablet or laptop if you need to.
These plans are perfect for people who like to talk a lot and know how much data they use on a regular basis. Say, you're a data hog one month and you suddenly realize you need more, just go to T-Mobile's website and switch to a different plan.
Every Simple Choice Plan comes with certain perks. Simple Choice plans include Music Freedom. With Music Freedom, users can stream as much music from iTunes Radio, Xbox Music and Spotify and have it not count towards their high-speed data bucket. Simple Choice Plans are the only T-Mobile plans that allow you to carry over your unused 4G LTE data allotment too, which is very important. T-Mobile won't suddenly cut you off if you deplete your LTE data. Instead, it sends you back to their slower 3G network for the remainder of your billing cycle.
How you get your device is important on T-Mobile. Over a year ago T-Mobile announced it would no longer offer two-year contracts in exchange for discounts on smartphones and tablets. Now it packages those costs separately from plans. If you have a device that's compatible with T-Mobile already, you'll pay the list price for monthly service plus taxes. If you don't, you'll need to finance one through T-Mobile in monthly payments or pay for it in full. For example, T-Mobile offers apple's iPhone 6 with 16GB for $0 down and 24 monthly payments of 31.24. Or users can pay the $749 in full. Once the device is paid off, users monthly bills go down to just the cost of their plan.
There are family T-Mobile plans for Simple Choice users too. The same handset buying scheme applies. So does Music Freedom streaming and unlimited regular data. Users begin by choosing a monthly plan that fits their use starting at $50. They then add another line on top of that for $30 minimum. Adding a third line starts at another $10.
T-Mobile Plans – Simply Prepaid
Announced today, Simply Prepaid is how T-Mobile hopes to keep boosting its prepaid business over the New Year. T-Mobile plans to launch Simple Prepaid plans on January 25th. There are no credit checks with any of T-Mobile's prepaid plans.
T-Mobile Simply Prepaid is a barebones, no extras way of getting service on T-Mobile. Instead of monthly fees for smartphones, users simply pay for their phone up-front, whatever it may cost. There are no contracts and no services fees to worry about.
$40 gets users unlimited calling and texting plus 1GB of high-speed data. $50 gets users 3GB of high-speed data and unlimited calling and texting. $60 gets users 5GB of 4G LTE data. Again, technically, the data is unlimited because T-Mobile simply sends you back to their 3G network if you go over your allotment.
It might appear as if Simply Prepaid users are getting the best deal, but really they aren't. Other T-Mobile plans come with Music Freedom for conserving your data and the option to upgrade phones twice a year with T-Mobile Jump. None of that comes with a T-Mobile Simple Prepaid plan. Additionally, Simply Prepaid users don't get tethering.
There's a $3 plan for prepaid users with 30 minutes of talk time and 30 text messages that users can add data to for $10 a week too. Again, users need to pay for their phone entirely and separately from this plan.
Which T-Mobile Plan is Right for You
As with most things, which T-Mobile plan you choose comes down to your needs. Obviously, if you're a single person looking for wireless coverage a Family Plan, isn't a good idea for you.
The difference is phones an extras. If you're someone who needs the next amazing smartphone, streams a lot of music and is comfortable paying extra on top of your service plan to cover installments on a iPhone 6, the Simple Choice T-Mobile plans are the way to go. Even if you already own a compatible phone, the Simple Choice plans are a better idea since you can significantly cut your data usage with Music Freedom and have everything to upgrade down the line if you need to.
Simply Prepaid is great for anyone who doesn't mind paying for their smartphone in its entirety, doesn't want a smartphone at all. They also don't require a credit check. Those are they're strengths.
Good luck in choosing your T-Mobile plan.

This article may contain affiliate links. Click here for more details.