Which Version of Microsoft Office Is Best For Your Needs?
Microsoft's Office suite of productivity apps aren't just best in class. Chances are that if you're have a business of some scale or are a student you live in Office's Word, the suite's word processing utility. With all of that utility and power comes a big problem: there are a handful of different versions of Microsoft Office 2013, all with their own unique features, distinct advantages and disadvantages.
Here's how to cut through all of that noise and choose the version of Microsoft Office that is best for your needs.
Office 365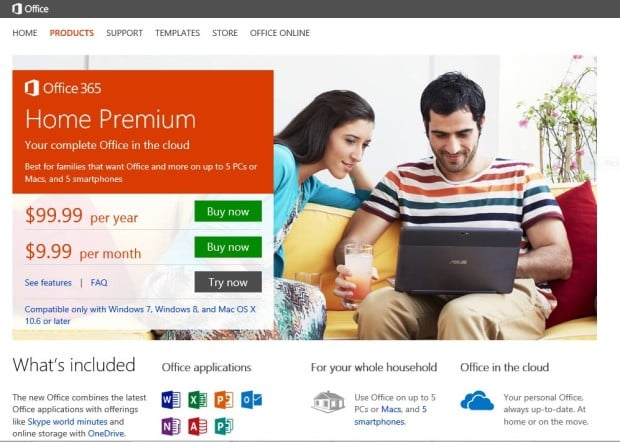 We'll begin with the newest and most important version of Office, Office 365. To understand why it's so important, you first have to understand that Office 365 isn't a program in the traditional sense of the word. Yes, there's still a local version installed on your computer, but instead of paying one flat fee for a version of Microsoft Office that never updates, Office 365 essentially allows users to rent five copies of Microsoft Office for $99.99 per year, or $9.99 a month. That's right, Office 365 isn't a one-time purchase. It's a subscription service.
Subscribers to Office 365 get Word, OneNote, PowerPoint, Access, Publisher and Outlook on their Windows 7, Windows 8 or Mac devices. They also get access to the mobile phone versions including Office for iPhone, Office for Android phones and Office for iPad. Office 365 will also sync your documents between multiple devices if you want it too.
Really, there are only two problems with Office 365. One is pricing. A standard version of Office 2013 Home and Student, includes Word, Excel, PowerPoint and OneNote for $139. While it's true that copy can only be used on one PC instead of five and doesn't include Access or Outlook, I still think it's a better deal for anyone who doesn't need those particular apps.
What happens when you stop paying for Office 365 is the other big issue. Users will still be able to read their documents in the online version of Office and in Office on other PCs, but their desktop version of Office will stop working if they've stopped paying on it.
For big families Office 365 is great deal. For any single person looking for Office 2013, picking up a copy of Office Home & Student 2013 is a much better deal over the long-term.
Office Online
Though not as new to the Office ecosystem as Office 365, Office Online is still a fairly new product for Microsoft. Think of Office Online as a web app like its Outlook email service. Microsoft continuously updates the suite's copies of Word Online, OneNote Online, PowerPoint Online and Excel Online. As such, you're always up to date. The trick is that Office Online lives in the web browser. As such, users need to be connected to the internet to use it.
Office Online 's free price tag makes it great for anyone just looking to edit a few documents. Users can store and download any documents created in Office Online to their PC, Mac or any other device. Documents are automatically stored on Microsoft's OneDrive service for free by default. These apps aren't as feature rich as their Office 2013 desktop counterparts, though. I suspect casual users will be hard-pressed to find the difference despite this.
Office 2013
Lastly, there's Office 2013, or what people traditionally think of when buying Microsoft Office. It's literally a software package that users install on their PCs. Which version you choose depends heavily on your specific use case.
Office Home & Student 2013 allows one user to install Word for writing documents, Excel for making spreadsheets, PowerPoint for presentations and the OneNote note taking app on their PC for $139.99. As the name suggests, home users, students and anyone that doesn't need Outlook are better off purchasing this version.
Office Home & Business also includes one install of Word, Excel, PowerPoint and OneNote. It adds Outlook, Microsoft's email and calendar utility and a bit more to the base price tag. This version costs $219. If you must have Outlook because you run a business or belong to a business that relies on Outlook than this is the way to go.
Finally, there's Office Professional 2013. It includes Word, Excel, PowerPoint, OneNote, Outlook and Publisher for making flyers, banners and newsletters. There's also Microsoft's Access database software here too, for those who really need it. This version costs a rather robust $399.99 and can only be installed on one PC too.
Buying either of these versions is great as long as you don't need to install Microsoft Office on more than one machine. If you need more installs, paying for Office 365 could quickly turn into a better short-term deal for you.
Either way you go, Microsoft Office is the world's premiere productivity suite. Millions of buyers use one of these versions of Office to get work done every day. Don't be intimidated by your choices. Examine which apps you might need and which ones you won't use. Office 365 is the only way iPhone, iPad and Android users are going to get their hands on mobile versions of Office, take that into consideration too. Look at how many devices you need to install it on and go from there.
Good luck.