White iPhone 4 References Disappear From Apple's Website
It looks like there is more trouble for the white iPhone 4 as it appears that Apple has removed a bunch of references of it from its website.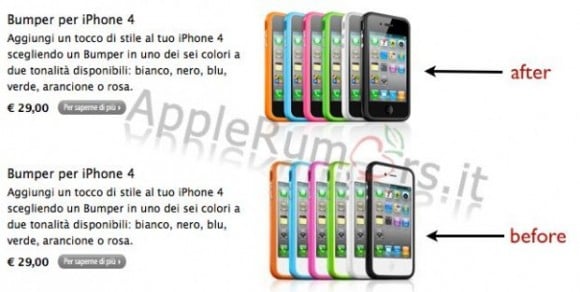 The move, which was first noticed by AppleRumors.it, got rid of a bunch of visual references of the white iPhone on both the U.S. and International versions of the site. In one instance, the white iPhone has been removed from an image displaying Apple's iPhone bumper.
Unfortunately, the purpose of the move is unclear. Apple has said that it would be launching a white version of the iPhone 4 sometime this spring. There was also word, just a short time ago, that the white iPhone 4 would be shipping this month.
However, this appears to be a step backwards and there is the possibility that this might mean that the launch might be delayed indefinitely.
The white iPhone 4 was originally announced all the way back in June with the announcement of the iPhone 4 but has yet to make it to the shelves for either AT&T or Verizon customers.
(Via MobileCrunch)

As an Amazon Associate I earn from qualifying purchases.