White iPhone 4 Finally Officially Arrives Tomorrow
After a long and embarrassing delay, Apple is now officially launching the white iPhone 4 on April 28. The press release from Apple says they will be available at their Apple stores, online and at AT&T, Verizon and some "select Apple Authorized Resellers." Which resellers was not included. There have been reports that Best Buy might be included.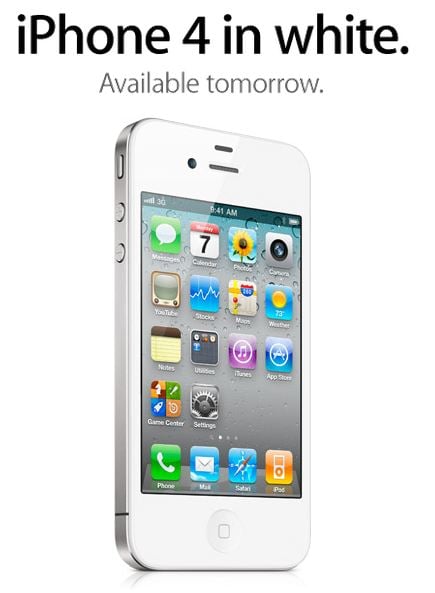 The white iPhone was first announced along with the black iPhone at the launch event last summer. It was delayed because Apple wanted to get it right and was having problems with the manufacturing process. They have been tight-lipped about what the problem is. There has been a lot of speculation about the reasons but we may never officially know what happened.
The price will be the same as the black iPhone 4 – 16GB for $199 with 2-year contract and 32GB for $299.
We've seen a lot of reports leading up to this official word including tweets from Apple's Phil Shiller. But now that it is official we can all move on to rumors about what the next iPhone will look like and what new and exciting specs it will include — and wether it will be available in white at launch.
CUPERTINO, California—April 27, 2011—Apple® today announced that the white iPhone® 4 will be available beginning tomorrow. White iPhone 4 models will be available from Apple's online store (www.apple.com), at Apple's retail stores, AT&T and Verizon Wireless stores and select Apple Authorized Resellers.

"The white iPhone 4 has finally arrived and it's beautiful," said Philip Schiller, Apple's senior vice president of Worldwide Product Marketing. "We appreciate everyone who has waited patiently while we've worked to get every detail right."

iPhone 4 is the most innovative phone in the world, featuring Apple's stunning Retina™ display, the highest resolution display ever built into a phone resulting in super crisp text, images and video, and FaceTime®, which makes video calling a reality.

Pricing & Availability
White models of iPhone 4 will be available in Austria, Australia, Belgium, Canada, China, Czech Republic, Denmark, Finland, France, Germany, Hong Kong, Ireland, Italy, Japan, Luxembourg, Macau, Netherlands, New Zealand, Norway, Singapore, South Korea, Spain, Switzerland, Sweden, Taiwan, Thailand, UK and the US, beginning Thursday, April 28 and in many more countries around the world soon. White iPhone 4 will be available for a suggested retail price of $199 (US) for the 16GB model and $299 (US) for the 32GB model with a new two-year agreement through the Apple Store® (www.apple.com), at Apple's retail stores, AT&T and Verizon Wireless stores and select Apple Authorized Resellers.

Apple designs Macs, the best personal computers in the world, along with OS X, iLife, iWork and professional software. Apple leads the digital music revolution with its iPods and iTunes online store. Apple has reinvented the mobile phone with its revolutionary iPhone and App Store, and has recently introduced iPad 2 which is defining the future of mobile media and computing devices.

As an Amazon Associate I earn from qualifying purchases.