White iPhone Spotted in Best Buy Computer System for 2/27 Release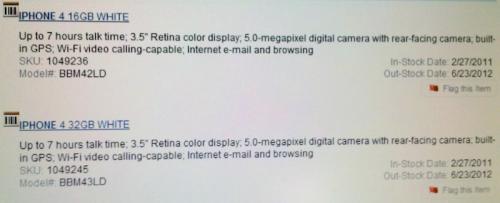 Apple's elusive white iPhone was recently spotted on German carrier Vodafone's inventory systems and now the paler shade of Cupertino, California's flagship smartphone has made an appearance on Best Buy's computer inventory system. The leaked screenshots of Best Buy's inventory system shows the SKUs for the 16 GB and 32 GB white models according to images obtained by Mac Rumors.
It is unclear if Best Buy has additional information about the iPhone. Apple has repeatedly delayed the launch of the white model in the past, and the most recent update from Apple says that the white model should see a launch by Spring.
Considering that Apple is close to its historic mid-year launch of new iPhones around the June-July time frame, it is unclear how much traction the white iPhone 4 will garner when it is released at this time. Most people who have waited in the past for the white model's release would have either gotten a black model iPhone 4 or another smartphone, or would continue to wait now considering that it's close to the next iPhone launch.

As an Amazon Associate I earn from qualifying purchases.