White Lumia 900 Arrives Early in AT&T Stores
AT&T's Nokia Lumia 900 is now available in a grand total of three colors as the white version, which wasn't expected to go on sale until April 22nd, is now on sale in at least some AT&T retail stores.
MobilityDigest has posted two photos that depict the white Lumia 900 being sold inside an AT&T retail location. As of right now, the device is not available in AT&T's online store so it appears that the only way to get this phone early is to either call or go into a physical retail location.
Those that are unable to procure the device today won't have to wait long though.
Read: Nokia Lumia 900 Review.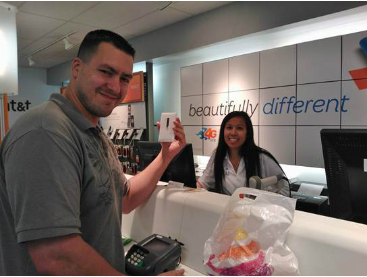 The device is going to be launching, officially, in just two days time.
AT&T's white version of the Lumia 900 is going to be exactly the same as the black and cyan colored variants that are currently available at AT&T and other retailers.
It will also carry the same $99.99 on-contract price tag.
That means that you'll get a phone that has a 4.3-inch ClearBlack Display, a 8MP Carl Zeiss camera, and a 1830 mAh battery. It also packs 4G LTE capabilities which means it will be able to pull down data speeds that are up to 10 times faster than those found on AT&T's 3G network.
Right now, AT&T's web store only has one version of the Lumia 900 on sale with the cyan colored Lumia 900 currently not available to buy.
It could be that the absence is due to good sales. After all, AT&T's president has said that the Lumia 900 is exceeding the company's expectations.

This article may contain affiliate links. Click here for more details.