White Lumia 900 Gets Pictured, Hits AT&T on April 22nd
Yesterday, AT&T finally announced the official release date for the Nokia Lumia 900 Windows Phone. It's going to be hitting the carrier's 4G LTE network on Sunday, April 8th for $99.99 on-contract. It will be available then, in cyan and black colors. However, for those that are willing to wait until April 22nd, AT&T and Nokia will be launching a white version of the Lumia 900.
Until today, we didn't know what that would look like. However, EverythingWM has gotten its hands on an image of the upcoming beauty, showing off what Nokia's flagship Windows Phone will look like in white.
Besides the new color, this is the same device that will be launching on April 8th.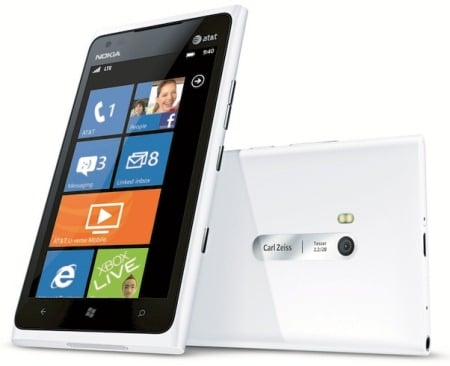 Read: Lumia 900 vs. Lumia 800.
That means that you'll get the 4.3-inch ClearBlack Display, the 8MP Carl Zeiss camera, and the 1830 mAh battery. You'll also get 4G LTE capabilities which means data speeds that are up to 10 times faster than those found on your normal 3G network.
It's a phone that we loved when we went hands-on at CES, and you can check out our hands-on with it in the video below:
The Lumia 900 is going to be the third Lumia Windows Phone to launch in the United States and it certainly has the most promise. It will follow the Lumia 710 for T-Mobile, a phone that we loved at its price point, and the Lumia 800 which arrived in the United States unlocked with an insane price tag.
AT&T will be offering up all three colors of the Lumia 900 for $99.99 on-contract, a price that will surely lure in more than a few newcomers to Windows Phone.

This article may contain affiliate links. Click here for more details.