White Nexus 4 Deal Includes Free Wireless Charger at T-Mobile
In a move that's likely to bolster its appeal with those already looking to find an Android experience without all of the add-ons and changes that handset makers introduce with their handsets, T-Mobile is offering a wireless charger as a bonus gift for any user that purchases a white Nexus 4.
T-Mobile isn't just throwing in any old wireless charger either, instead it's offering the charging orb specifically designed for use with the Nexus 4, the WCP-400 charger that was unveiled alongside the device last year. With the charger, users will longer have to worry about physically plugging in a cable in order to boost their battery. With it, quickly charging the device in between appointments or meetings is as quick and painless is it could possibly be.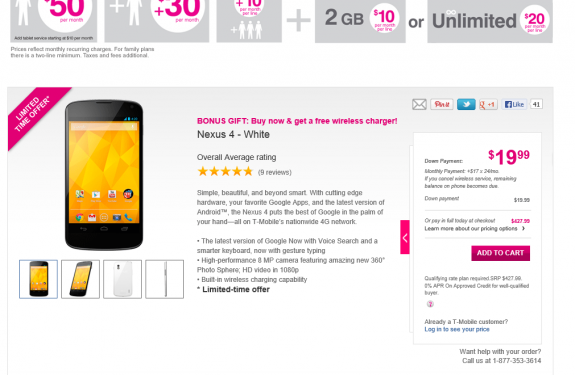 Read: Nexus 4 Wireless Charger Review
T-Mobile says that it will only offer the charger for a limited time, though its website doesn't indicate how limited that time is, or when the offer might end. It does indicate that users will only be able to get the charger if they place an order for the white Nexus 4 online, and that if a user decides to return their Nexus 4, they may be required to return the charger as well. A White Nexus 4 will cost users $427 or a down payment of just $19 and monthly payments of $17.99 on-top of service costs.
Read: White Nexus 4 Goes on Sale May 29th
Though its release comes almost a year after the announcement of the black Nexus 4, the white Nexus 4 features the same internals as its predecessor. These include a 4.7" IPS display with Snapdragon S4 processor and 2GB of RAM. The version of the device that T-Mobile offers ships with 16GB of memory while the Google Play Store also offers the device with 8GB of onboard storage for just $299 as well.
Instead of a free wireless charger which costs users $59.99, Google is offering a free white bumper with the purchase of the white Nexus 4. Purchased separately a Nexus bumper case would cost users $19.99, making T-Mobile's offer a better deal based pricing.

As an Amazon Associate I earn from qualifying purchases.