White Nexus 5 Appears Ahead of Launch
The Nexus 5 smartphone from LG and Google is nearly here. With reports, leaks, and official sightings coming daily. Someone up in Mountain View pulled a fast one last night and put the brand new, still unannounced Nexus 5 smartphone up on the Google Play Store. Revealing the device will start at $349 for the 16GB model, and likely go up to $399 for the 32GB variant.
Today though we're getting one more clue just days (or hours) before Google announces the new device. The Nexus 5 has leaked on Google+ in a rather bland blue retail packaging, similar to the Nexus 7 box, showing off the full retail look of Google's new smartphone. That isn't all either. The device is white. It looks like Google could launch both a white and black variant at the same time.
This doesn't surprise us however, as Google released a White Nexus 4 as well, it just didn't arrive on launch day. Looking at this leak we're expecting Google to drop both a white and black model of the new Nexus 5. So two color models, and both a 16 and 32GB storage option. Now all we need to know is if the rumor of a model with a larger 3,000 mAh battery is real, if Verizon will be supported, and when we can buy one.
Another reason this retail package showing a white Nexus 5 isn't all that much of a surprise is because we saw it months ago. In one of the first clear photos of Google's new device we received a look at the back of the black model, and a hint of the white edition sitting on top, as you can see below.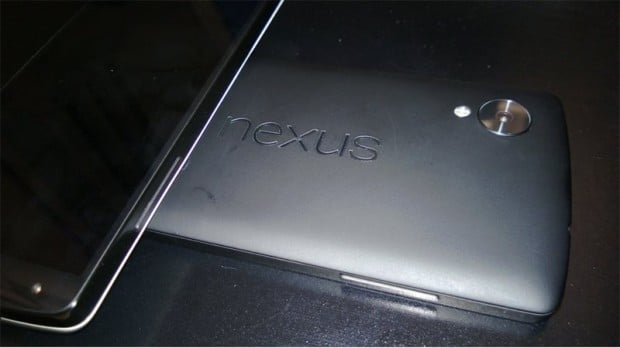 Looking at the device on top, you can clearly see the two-tone white and black color option. Just like the Nexus 4 it appears Google will have the matte black version we've seen for months, as well as a two-tone white model with a black front fascia. It doesn't look like we'll be getting an all white model, but for those who want options, Google should have them come launch day.
Read: Nexus 5 Video, Rumor & Release Date Roundup
At this point it's merely a waiting game. With the Nexus 5 seemingly out in users hands being tested, retail packaging fully assembled and ready to be delivered to customers doors and hands, and now the Play Store ready to rock a release date should be coming any day now. The hype train needs to stop, and a release date needs to arrive.
The latest word according to rumors out of the @KitKat Twitter account are saying the 21st, which is starting to seem realistic given all these leaks the past few days. Otherwise we're still looking at a late October announcement, with availability in November.